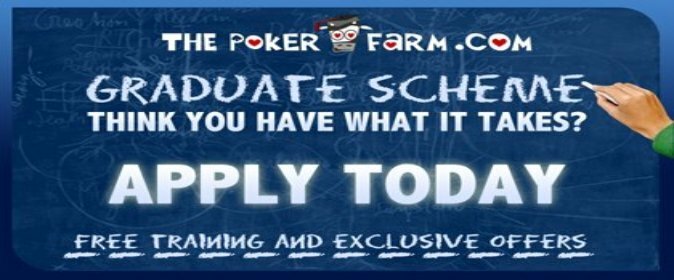 The Graduate
Here at the Pokerfarm we're committed to finding and developing the hottest poker talent out there. If you think you have what it takes to become a winning poker player, then look no further.
Start Date: Jan. 1, 2012
End Date: June 30, 2012
Promotion Details
We're setting you a challenge. Complete our graduate scheme within 2 calendar months and prove to us that you have the necessary skills and discipline to win at poker, and we will enrol you in our Pokerfarm staking programme. If you are successful in your application we will provide you with all the tools you need to succeed in poker. We provide you with a bankroll and strategic coaching from some of the biggest poker winners on the planet.
The Graduate Challenge;
Sign up to one of our

partner rooms

listed below,

email us at to tell us your choice of room and alias
Complete either 10,000 raked cash hands, 200 SNGs or 100 MTTs.
During the challenge we will provide you with your own personal mentor and guarantee you at least 1 session worth of coaching from one of our Pokerfarm instructors.
On completion of the challenge we'll review your play and let you know if you've made the grade. For those who are unsuccessful you will be rewarded with a loyalty bonus, and don't forget, rejection first time around doesn't mean that you can't try again!
For any questions you have regarding the Pokerfarm graduate scheme please email and we'll get back to you shortly.
NB PLEASE EMAIL YOUR USERNAME AND CHOICE OF ROOM BEFORE YOU START THE SCHEME. YOU MUST DOWNLOAD AND PLAY AT ONE OF OUR PARTNER ROOMS TO BE ELIGIBLE.
Existing accounts at Pokerfarm partner rooms are not eligible for this promotion. Players who play below $.10/20(cents) will unlikely be considered for staking