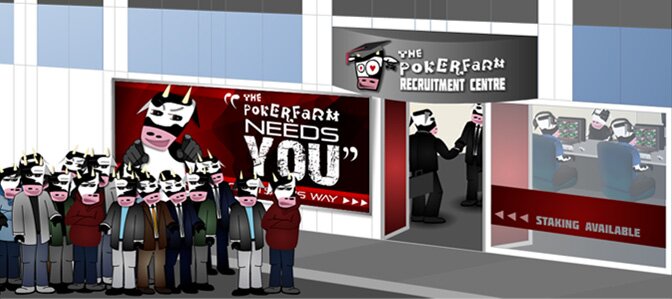 Poker Staking
Who are the Pokerfarm?
The Pokerfarm started as an online poker training community sponsoring some of the best players around the world. We have a very stable and successful staking operation and are now taking big strides to grow the business internationally by taking on new players from all over the world.
The Pokerfarm has evolved rapidly into one of the world's biggest poker staking operations and we aren't stopping there. Expect big things from the Farm this year as we continue to grow our operation. We are currently developing a unique staking, training and poker community, run by poker players for poker players.

How do I apply?
We're open to applications for our Poker Sponsorship from all types of players, regardless of game type, experience or bankroll. What we're looking for are reliable, hardworking players with a willingness to learn and develop as poker players. All we need are a few details from you about your poker profile, who you are, and why you want to be staked.
Players must be able to show decent statistics of their play over a reliable sample size to be considered for our full time poker staking program. Unsuccessful applicants may have the opportunity to join our poker graduate scheme for a chance to prove their capabilities and join our staking team.

What do I get?
If you are successful in your application we will provide you with all the tools you need to succeed in poker. We provide you with a poker bankroll and strategic coaching from some of the biggest poker winners on the planet. The game has progressed at an astonishing pace over the last few years and we are at the forefront. We can take your game to the next level.

Is Staking for me?
These days being a staked player is more often the product of a sensible decision than a desperate measure.
Whatever your poker stakes may be from micro limits to nosebleed, there will be a game going 24/7 on the internet somewhere. With all of this choice available, and having the ability to spend a huge amount of money, many players are now deciding to go down the staking route.
All player deals will be uniquely structured to suit the individual player. We offer full staking or shared risk staking and have different profit share and bonus structure for all players. To apply for our poker staking program, please complete the application form below. 

NB
DO NOT APPLY FOR THE FULL STAKING SCHEME IF YOU CANNOT PROVIDE AT LEAST A 50,000 HAND SAMPLE OR PROOF OF VOLUME/RESULTS THROUGH A POKER TRACKING SITE. Applications which do not fit this criteria will be ignored. If you don't have reasonable evidence of your play, please apply through our graduate scheme.

100% bonus up to £1250
$5 Bonus released for every 350 WH points earned
Pokerfarm Sponsorship
Up to 50% value back with our sponsorship scheme.See Promotions page for details
$400 New Player freerolls
Recieve 4 tournament tokens for thier weekly $1000 new depositor freerolls.
Exclusive Promo