John Hewitt
Hometown:Santa Ana
Country of Origin:CRI
Lifetime Winnings:$624,887
Career Titles:0
POY Rank:662

John Hewitt News
Career Winnings
Player Bio
John Hewitt started playing poker when he was at college in Costa Rica, mainly online tournaments. After a year off struggling to find his feet John won a $11, 1 re buy tournament on stars which kick started his bankroll.
Looking to keep hold of his roll John looked for coaching and mentoring to improve his game.
John joined The Pokerfarm just over a year ago where he began grinding online tournaments and successfully building his bankroll.
John's big break in poker came at the 2011 WSOP where he represented a team of online players from The Pokerfarm. After cashing in his first ever WSOP event for $17k John followed this up with an incredible run in the main event, narrowly missing out a place at the final table. John came 10th for $600,000.
Fast Facts
Name: John Hewitt
Age: 24
Nickname: None
Favourite drink: Lemonade
Favourite music to grind to: Alternative
Favourite city: New York
Best film: The Hangover
What car do drive: Honda SRV
Hobby: Chilling with friends
Favourite sports team: La Liga
Image Gallery
Blog
Nov. 5, 2011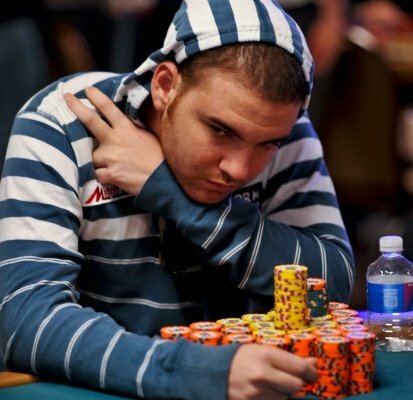 The king-queen hand, I swear to you, I have blackouts.  I can't even remember what was going on ...

100% bonus up to £1250
$5 Bonus released for every 350 WH points earned
Pokerfarm Sponsorship
Up to 50% value back with our sponsorship scheme.See Promotions page for details
$400 New Player freerolls
Recieve 4 tournament tokens for thier weekly $1000 new depositor freerolls.
Exclusive Promo