Agony for Hewitt & The Pokerfarm
July 20, 2011, Posted by Pokerfarm

About 3 hours ago the atmosphere here at Pokerfarm HQ was electric. Pokerfarm's John Hewitt, an online grinder living in Costa Rica was set to achieve the unthinkable. John was poised to make the November Nine at the WSOP. He wasn't just scraping in either and was set to make the final as one of the top few chipstacks. 
Over the last 8 days, John had gone under the radar, quietly chipping up, and soaring up the chip counts as we neared the final. With 22 remaining last night, John was in 7th spot. His day 8 started well when his KcJc managed to get there on a 2-club ace high flop against his opponent's pocket eights. John was starting to gather momentum and he looked to be a lock for the November Nine.
Things only got better for John when he picked up QQ and was 3-bet by aggressive German player Pius Heinz. John called the 3-bet and check called bets on a K24cc flop, 6x turn and Tc river to see Pius muck. This was a huge moment which propelled him upto 28,000,000 in chips. John had one foot in the final and it was now his to lose.

Pius Heinz
Unfortunately with poker being the cruel mistress that it is, John was soon to be on the end of a crippling bad beat. John opened UTG to 650k with AK and when it folded round to the button, his nemesis Pius Heinz 3bet shoved over 8 million chips into the pot with KJ. John called in a flash and was still good on the T87 flop. The 6 turn changed nothing, but an ugly 9 on the river proved to be a crippling blow, filling Heinz's gutshot. John was still in reasonable shape, but you could see by his expression that Heinz's suckout was like a dagger through his heart. He had to regroup.
Over the next 50 or so hands, not much was going John's way. Phil Collins, Ben Lamb and Eoghan O'Dean looked to be in complete control of the table. John was still over 13 million, but getting low. The next critical hand came when shortstack Matt Gianetti shoved UTG for 5.5 million on the actual final table bubble. It folded round to John in the BB where he looked down at ATo. Seemingly ahead of Gianetti's range, John made the brave call. Amazingly Gianetti had picked up JJ in an incredible spot and John couldn't get there. John had now become a shortstack himself and was in real danger of bubbling the November Nine himself.
We can only begin to imagine what was going through John's mind now. Here was a young online grinder, playing the best poker of his life in the biggest tournament of his life. He was destined for the November Nine, and was now facing extinction. It was inconceiveable. 
The next hand will be talked about for a while to come. John was sitting with 13 million and opened to 1.1 million from mid position. It folded round to Badih Bounahra who looked down at his cards, fiddled with his chips, re-checked his cards, sighed and then moved in for 9.3 million. John took a deep breath, seemingly agonised by the decision he had to make. 'He must have jacks', Hellmuth remarked on ESPN. All of the rail were sure he had at least jacks. Bounahra had been the tightest player at the table by some way, so it seemed unlikely that John would call at all. Expecting his cards to fly into the muck, gasps echoed through the room as John announced 'CALL', flipping over KQo. As expected, Bounahra was strong, and his KK had John in a world of hurt. 
John had been knocked down to less than 4 million chips and around 8 BBs. A few hands later Eoghan O'Dea raised and John stuck his last chips in with 33. O'Dea made the obligatory call with KJ and a QTx flop had John on the ropes. John's WSOP dream was officially over on the turn when an ace rolled off.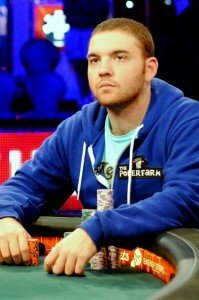 John Hewitt - WSOP FT bubble boy
The knives have been out for John on 2+2 already, calling his KQ call one of the 'worst blowups in WSOP history'. While John will admit it was an error on his part, we forget the immense pressure these guys were facing. John had played for 8 days straight. He is a small stakes online player who was staring down the barrel of a $9million payday. Given those circumstances it's understandable for anyone to make a mistake. Unfortunately it was a mistake that cost John the chance of winning the main event, but let's not forget his achievement in coming 10th for $607,882. It was an amazing run and we're all proud of you John. Once the dust settles, $600k and change will hopefully go someway to heal your wounds. 
What Others Are Saying
4 Comments about Agony for Hewitt & The Pokerfarm