April Update
April 29, 2011
Poker is a shit game at times. A lot of the time. At present im incredibly frustrated with the game and having some serious issues with how to bridge the gap. Im under consistent pressure to perform it feels (it is a results business afterall, and I am staked by the farm) and this last month has been a slap. At the start of the month I played in some big games against some top opposition. I will be the first to admit I was thoroughly outclassed. Since making a pact with myself to only play 400-1k on merge, I feel that I am performing decently. There is always a bit of doubt that creeps in when u keep chalking up bad numbers, but I have played long enough to realise its not really the results that matter, it's the thought process and the "long-run". The graphs below show all my activity since joining merge over 6 weeks. To say I am disappointed wouldn't be the half of it. Lucky I live with people who can shrug off the bad times pretty well, but the stress of just getting bitched on really does take its toll.

So this is a 100k hand sample, including that monster beating at 1020 and a few other shots in the same game. The graph is pretty tilting, because of the inconsistency, but that's simply because of the huge variation between 400 and 2k. Here is a filtered graph for 1k and below.

So basically, if I had just played 1knl and run decently, id be up 30k and looking forward to vegas. Instead im at a conjuncture. I have just taken on a student for 100nl, who I am coaching for a chunky period of time, getting back into coaching seems to be a good idea atm as I havent had a proper big payday in over 9 months, because of some 100k$ combined runbad. The really worrying thing is, EV never owe's you anything, it just goes on and on in a cycle of randomness that makes you giddy. I guess not taking yourself and life too seriously are pretty important aspects to being able to grind successfully, but it aint half getting on my tits having to continue asking arron for more $ in this bloody account.
It pains me to write such a whiny blog, its pretty sad that im using it as some kind of self-justification, but I was commited to this company from day dot, regardless of where that leads me and I thought it might be interesting to other farmers who are having a good time of it atm. It can all change very quickly, be prepared for it, I wish I had been a bit more sensible with a lot of the money I have had over the years but I guess it takes a lot of practice to finally crack it. Ok, enough violins, back to the tables (or player transfer, whichever comes first).

100% bonus up to £1250
$5 Bonus released for every 350 WH points earned
Pokerfarm Sponsorship
Up to 50% value back with our sponsorship scheme.See Promotions page for details
$400 New Player freerolls
Recieve 4 tournament tokens for thier weekly $1000 new depositor freerolls.
Exclusive Promo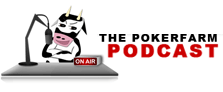 Catch up with the latest Pokerfarm Podcast.
Live From Cannes. Dinner With The Develfish