April, year/merge so far
April 7, 2011
Im not one to whinge, infact i think in order to actually survive/not go insane/keep earning i think its pretty important to not take yourself too seriously and to just try and play your absolute best at all times. But the last 2 months on merge have been fun, painful and at times had me looking at the tables wondering where all the value has gone. The games appear of late to either be seriously lacking what i consider true value, or, if you catch it at the right time, incredible. I will post the all hands graph at the end of this post, but merge has not been treating me kindly. Luckily the farm appreciates this but i feel like the odds on my next account being a r"run-good" account need to be dramatically shortened.  Every farm account has been a runbad mofo, im not getting the violins out, but a break would be nice. The last few sessions iv had consisted of getting my arse handed to me on a plate by JayNYC, who i wont be playing again, jamming a few sessions with Dave "sexygee" gent (before i knew who i was playing) and a session against some unknown woman. All these sessions were at 5/10, 10/20 and i kinda felt sick afterwards. So much so that i decided to go home, have a break, play some golf (and get pretty badly sunburnt, tintin's should always wear a hat) and just forget about poker for a period. Im looking forward now to getting back to Warrington and putting in some smart shifts, im going to cut down on some of the weaker volume and sacrifice a few more Friday/Saturday nights (to be honest, they dont particularly like southerners up here anyhow, so ill probably be inadvertently saving myself a trip to a+e). Im going to reduce stakes for a period, just to put some numbers on the board, as this month has started poorly and confidence is a bit low. Once i start winning on a daily basis again ill move back up. My aim in poker is not just to grind out a nice standard of living afterall, i want to consistently beat the mid and highstakes games. I figure once iv crossed that off the list ill be content that i played and beat the best in the format. One gaping leak i have right now is an inability to play some of the true lags hu and 3handed. Seriously considering getting a decent coach to help me combat some regs who cause me all sorts of problems (chimpanzeethat, playerplayer, rerazor (though slightly less so).
So ill be trying to play about 60k hands this month with a view to doing what i used to do on a regular basis. Play short, small sessions, book wins. The good thing about short sessions is a lot of players have a very short memory, that only expires over hands. Im probably at my best in high aggression 6max games with laggy regs, where i am pretty acutely aware of image and recent history. Unfortunately of late the 400 and 600 games are pretty much nit-infested, i wont name names but so many 12-tabling robots make the game quite boring. Anyhow, the forum seems to be picking up some decent traffic lately, with some genuinely tough/fun spots (thinking the TT 3b/c4b 50nl hand) so hopefully we can get some good debates going. 2p2 lately has turned into a complete cesspit with im assuming people with exceptionally clean windows rattling on about the most inane spots ever, pretty much life-tilt whenever i post/login to msnl. Anyhow, probably gonna go cork soon for the ukipt, then (with a little luck) that badboy irish open. If Mitchell can win it, how hard can it be?? J

100% bonus up to £1250
$5 Bonus released for every 350 WH points earned
Pokerfarm Sponsorship
Up to 50% value back with our sponsorship scheme.See Promotions page for details
$400 New Player freerolls
Recieve 4 tournament tokens for thier weekly $1000 new depositor freerolls.
Exclusive Promo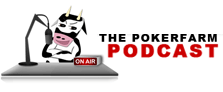 Catch up with the latest Pokerfarm Podcast.
Live From Cannes. Dinner With The Develfish