January, plus new year hopes, goals and expectations.
Jan. 23, 2011
Well 2010 was an interesting year. I had a huge upheaval in my personal life, split-up with my long-term partner and moved house. I went to vegas twice, did my balls both times, generally doing stupid things, but had fun. My game went all over the shop, I lost a lot of focus and drive, plus in this ever-changing game I stopped working so hard- watching vids/posting/talking about hands with a handful of people who play in the games I do who's opinion I genuinely rate. The year was sub-par in terms of results.

My wsop was a bit disappointing, in the 2.5k shootout I felt I was in with a real shot, simply because it tests every aspect of your game, from longhanded to short and with fluctuation stacks it was really fun. The main event I played well, but probably didn't prepare the best, being too jaded to really have the stamina to compete in such a long event.

Other live events were okish, I had some opportunities to get some huge stacks in the venetian November series, but there is a lot of variance in those tournaments and the field is tough to navigate owing to the propensity of ridiculously stupid moves and also good players who are hard to actually notice at first. I played very little live and sadly had to give back my Luton league winners trophy on New years Day. Will miss playing in Luton, some good mates and some truly stunning and terrible poker goes down there, sadly I have neither the inclination or the justification to really bother with it anymore, but ill deffo pop-in now and again to see the faces.

This year I have set the tough but attainable goal of $200k profit and 1 million hands. Secondly I want 1knl to be my main game by March. I feel that this poker lark has got a lot tougher lately, but there is still insane value in live comps, so will be going out of my way to play a few bigger bits and pieces over the year, probably starting with the Luton deepstack thing in march. Ill then get my ass to the ept snowfest, last year was a lot of fun, spent some time with a few joker poker players, the Romanello's in particular are a class act. Ill obviously sell a chunk owing to the ridic variance and being relatively busto most of the time, but after that ill probably save some $ for the world series, where I want to play in some of the bigger live cash games, which I have heard are great value. Probably endup selling pieces in that too, depends if I can have a big enough bet with degen to persuade me not to play the wheel.

So January started well, then I moved to Warrington where a good mate (I mean top bloke tbh) is starting a small poker farm where I said id help train a few of the guys up. They need a lot of help lol! Joke. They are starting to pick it up now, our youngest player (Kyle) in particular shows real promise and more importantly, is getting results. We all know this is (for better or worse) a results business. Slowly but surely you can see the improvements, I can only imagine the difficulty in some of our other farms where they are attempting to train dozens of players, what iv really noticed over the last 12 months is that the only way someone gets really good is if they play so much/immerse themselves so deeply that its borderline addiction. Only when they get that ridiculous (I mean 1 mil hands+) experience and watch tens of vids/discuss about a thousand hands do they get to the required level to really beat the game. I can think of Reynolds and Calum as the only two guys Iv ever met/hooked them on poker (sorry lads) that really were super hungry from the get-go. No surprise their results are better than nearly every other player in our community. I really hope the Warrington farm goes from strength to strength, Tyler is putting in a tonne of hard work with these guys and I just hope they appreciate both the risk and help he is giving them, 1 time succeed!

In other news iv got a spot back writing for poker player, which im quite happy about, if only to raise thepokerfarms standing in the general community (yeah ill try and get Elliot to proof-read my strategy so we don't all look like donks), be a good crack anyhow.

So quite soon ill be moving to South Africa. Its been on the cards a while to be frank, but when Chris Poulton and Calum both told me how insanely nice it is, plus after looking at the sort of place we can stay in/living costs, im very excited. Ill be staying with those guys and arron, so hopefully wont have to mediate too many arguments between grumpy and stinky. Grumpy is a big fella and stinky has got long arms which he could use some kind of windmill attack to good effect with. Should be jokes anyhow. Uncertain of my exact role as I am now involved with a separate side of the company, but ill be trying to run a small team of the hungriest guys out there, while doing lots of eating, surfing, chilling, jamming.

So anyhow, I wanted a swing free graph, sadly, we don't always get what we want. A 30k swing in 40k hands is just kinda how I run, I lack consistency, mainly due to playing absolutely anyone. Im a firm believed in something old Jude from 2+2 said about you only get better playing better players, luckily iv kinda been running hot/well for a bit now, so lets hope it continues long into the year!
What Others Are Saying
3 Comments about January, plus new year hopes, goals and expectations.

100% bonus up to £1250
$5 Bonus released for every 350 WH points earned
Pokerfarm Sponsorship
Up to 50% value back with our sponsorship scheme.See Promotions page for details
$400 New Player freerolls
Recieve 4 tournament tokens for thier weekly $1000 new depositor freerolls.
Exclusive Promo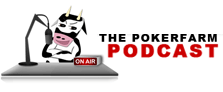 Catch up with the latest Pokerfarm Podcast.
Live From Cannes. Dinner With The Develfish