June Update
June 5, 2011
To say 2011 has been trying would be an understatement. The game is the game and i wouldn't enjoy it half as much (or have such a sick addiction) if there was any set formula or defined edge every time you sit down. I like the fact there is a gamble involved. That said, this year im on an alltime record EV downswing of just under 100k. About 5% of that is above 1knl. I feel sick just thinking about it. But on the other hand, bothered, get a violin out; definitely some of those losses led to much bigger losses when playing under sub-optimal conditions, mainly tired, aggravated or tilted. Last month i played in some of the best value games on the internet, ever. I was regularly placed in games with 2 fish, 2 regfish spewmonkeys and one solid reg. That happens so rarely i can only assume it was fallout from black Friday. All the decent yank grinders decided putting a lump on merge was a bad idea, so i ended up playing only the true degens -who are obviously sick in the head. Addict war May. Cue dropping 16k in a period i should have (sick brag) broke even.
So as a prelude to Vegas i decided to leave the sunny climes of Warrington for a week, go home, get some family cooking, see my mum and sis and a few mates who iv neglected of late. A bit of structure, some excercise (cos jesus this gut is getting big) and some decent cooking should let me recoup some losses before jetting off to play in the series with a great team of sick players. I consider myself very lucky to secure big buyin live staking, afterall i don't play live too often (although i did win the Luton 2009 league- sick tough field) and nothing gets me more excited than going deep in something big . Well the plan seems to have worked, iv taken a decision to only use HEM for hh reviews/tracking results for the next couple of months. I feel i have got way too immersed in statistical analysis and kinda forgotten the style that i developed that i know works for me (limp calling 5x, check-minraising and potting turns and rivers etcetc – confirmed sharky style. But seriously i think getting too involved in stats is almost a sin when you play a lot of tables. Players play so differently day to day, table dependant, player dependant, pending how they are running that i think i made far too many incorrect assumptions in the last 2 months, which basically reduced my winrate, which resulted in a less-stable mindset and incurred additional (and sometimes more substantial), losses. Well im gonna post a brag graph, because im not going to show you the disgusting one on my pc up north, which looks akin to a 4 year old trying to spell W 100 times.

Yeah boi! Well its fun playing without a hud then looking after at stats, im a 28/20 hudless, with a 3bet of 5%, pretty huge change and i doubt id ever be able to play that style sustainably when the tougher regs are on (because im unbalanced and my range lacks strength on so many board runouts), but im gonna play the style till i see noticeable adjustments from the better ones.
So off to vegas on Friday 10th with my net worth at an alltime low. Wp martins. The great thing about being backed by this company is they are very understanding and can see the bigger long-term picture. Its nice to know you have that kind of support and trust, which i think you earn and is so important. That said i do have one gripe in that my mentor is a huge nit, i really feel i could use someone with a bit more of an understanding of 6max aggro dynamics, not some old has-been who wants me to 3b fold AQ v girah in a blind war. Can we please signup Isildur or something.  Messing aside, Elliot really woke me up last week with how pathetic some of my stackoffs were, i kinda knew i was playing bad and i do live with some sick players, but its so nice to get a fresh perspective on situations/ line variations.
Vegas is gonna be fun, basically im going to grind my ass off playing a tonne of events and freeload off degens bankroll (when in rome) – im hoping to secure a stake for roulette, will be selling at 1.2, i got great "feel" at the wheel. Living with some guys i haven't seen in ages should be fun, plus i feel that this year the setup looks brilliant. Plan is two weeks, culminating in the 5k 6max which im really excited about, doubt ill be playing the main unless i bink or crack out the cowsuit (don't know if i could take the moo's again). Iv been asked by Josh to produce some articles, i already have some up but ill be adding some more for the crack, they will include "the art of the limp backraise", "raising for info on the river" and possibly "how to steal 1bb at a highstakes hu nlh cash game and do a runner before opponent gets to type "rat" in chat" plus some other rubbish. Cody just got the triple crown, insane achievement, especially for such a young guy, ill be trying to become bracelet buddies with the other lucky bastards that are already in the record books. 10 time!
What Others Are Saying
1 Comment about June Update

100% bonus up to £1250
$5 Bonus released for every 350 WH points earned
Pokerfarm Sponsorship
Up to 50% value back with our sponsorship scheme.See Promotions page for details
$400 New Player freerolls
Recieve 4 tournament tokens for thier weekly $1000 new depositor freerolls.
Exclusive Promo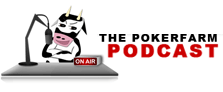 Catch up with the latest Pokerfarm Podcast.
Live From Cannes. Dinner With The Develfish