Poker poem
Jan. 12, 2011
I decided to put my literacy skills on the line here wiith this poker poem.
A day in the life of a grinder!
 
 
Being a grinder has its ups and downs,
Highs and lows with smiles and frowns.
 
The session starts with 2+2 or deuces cracked to warm us through,
Then onto the grind as we fire up tables,
Holdem manager spotting the fish and the able!
 
Cards come fast as we raise and fold,
And we sigh and curse when the deck runs cold.
We shout out ' GET THERE ' when we ship with a draw,
But as usual bricks off and the mouse hits the floor.
 
But when we run good, and we cant lose a pot,
We hit set after set and flushes on flops,
We feel a lot better and sit back in our chair,
To watch our balance rising with no fears or despair.
 
So when its not going your way,
And your at the end of your tether,
Just wait for the run good to return,
And you'll be the best player ever!
 

What Others Are Saying
3 Comments about Poker poem

100% bonus up to £1250
$5 Bonus released for every 350 WH points earned
Pokerfarm Sponsorship
Up to 50% value back with our sponsorship scheme.See Promotions page for details
$400 New Player freerolls
Recieve 4 tournament tokens for thier weekly $1000 new depositor freerolls.
Exclusive Promo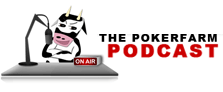 Catch up with the latest Pokerfarm Podcast.
Live From Cannes. Dinner With The Develfish