Day 10 – A-game, A-game, A-game
March 11, 2011
As promised i focused on playing my A-game at all times today. When i didn't feel 100% focused i stopped playing. As a result my volume was poor. Just 6870 hands. However it also meant that i absolutely crushed the games.
note the redline
That puts me $1282 up for the month with 69525 hands played.
Now i got my A-game back i have no excuse not to play a a lot of hands tomorrow. Might even get up before 9am !

100% bonus up to £1250
$5 Bonus released for every 350 WH points earned
Pokerfarm Sponsorship
Up to 50% value back with our sponsorship scheme.See Promotions page for details
$400 New Player freerolls
Recieve 4 tournament tokens for thier weekly $1000 new depositor freerolls.
Exclusive Promo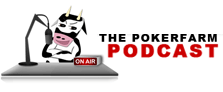 Catch up with the latest Pokerfarm Podcast.
Live From Cannes. Dinner With The Develfish