Day 16 – Sore
March 17, 2011
I didn't go to the gym today because i couldn't walk. It took me 5 minutes to get out of bed i was so sore. Instead i got up, went to the office and sat down to play. And things went pretty well …
I didn't play many hands because i went out for sushi this evevning but i'm really happy with one thing; how i quit. Tommy Angelo says that quitting is a skill and that picking the right time to finish your session is important and affects your winrate. Today i focused hard on this and made sure that i didnt wait for my play to become sloppy before i quit my session, i made sure i ended sessions thinking as clearly as i had been when i started them. I also stayed true to my word and quit when i felt tilted. The highlighted section of the graph is where i lost two pots in quick succession that were fairly unlucky. When i lost them, i quit the tables and left the room. I am pretty sure that that $200 downswing would have been a $1000 downswing like all the others if i'd kept playing.
So after two days one winning, one losing, where i haven't played enough hands, i need to put in a sh*t-ton of hands tomorrow. Gonna get up early and head to the gym, then grind non-stop all day.

100% bonus up to £1250
$5 Bonus released for every 350 WH points earned
Pokerfarm Sponsorship
Up to 50% value back with our sponsorship scheme.See Promotions page for details
$400 New Player freerolls
Recieve 4 tournament tokens for thier weekly $1000 new depositor freerolls.
Exclusive Promo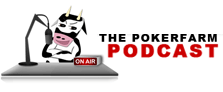 Catch up with the latest Pokerfarm Podcast.
Live From Cannes. Dinner With The Develfish