Day 17
March 19, 2011
Still too sore to gym.
Woke up and noticed that England were playing the West Indies in the cricket world cup in a must-win game. By the time i managed to find a stream the game looked all but over. Windies were 210-6 chasing 244 with over 10 overs left and Sarwan and Russel well set at the crease. England, however, know how to entertain. Every single one of our games has been a thriller and this was no different. Tredwell removed Russel, Swann removed Sarwan and the last two Windies batsmen managed to remove themselves to give England an unlikely 18 run win. Depending on results over the next couple of days, we should now make it through to the quarter finals. I hold absolutely no hope of us going on to win the competition but i do look forward to at least one more nail-biting finish.
The day's poker was a 3 part story -
1. The Beginning – Grinding out a steady profit
2. The Middle – a disastrous stretch of never-ending coolers
3. The End – A miraculous recovery
Not dissimilar to England cricket game i suppose.
I have been a little lazy with hands recently so i MUST have a big weekend. I want to play at least 25k hands over Friday, Saturday, Sunday. I will do a blog on Monday morning about the whole weekend.

100% bonus up to £1250
$5 Bonus released for every 350 WH points earned
Pokerfarm Sponsorship
Up to 50% value back with our sponsorship scheme.See Promotions page for details
$400 New Player freerolls
Recieve 4 tournament tokens for thier weekly $1000 new depositor freerolls.
Exclusive Promo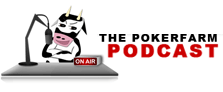 Catch up with the latest Pokerfarm Podcast.
Live From Cannes. Dinner With The Develfish