Day 21 – Still upswinging
March 22, 2011
I woke up a little later than usual today which meant i didn't get to the gym until a little later, didn't leave the gym until a little later, and subsequently didn't start playing until a little later. In fact i didn't actually start playing until 1.30pm. This made it kind of hard to play the 10k hands I had intended to. Nevertheless i put in a solid grind of 6500 hands and won a nice $800. Tomorrow the car is going into the garage so I wont be hitting the gym in the morning, instead i'll be up at the crack of dawn starting the biggest day of the month so far. At least that's the plan. The 3rd of the month saw me play 10,438 hands so i'll be looking to beat that tomorrow.
Monthly graph is starting to look pretty sick :
134870 hands
+$3568

100% bonus up to £1250
$5 Bonus released for every 350 WH points earned
Pokerfarm Sponsorship
Up to 50% value back with our sponsorship scheme.See Promotions page for details
$400 New Player freerolls
Recieve 4 tournament tokens for thier weekly $1000 new depositor freerolls.
Exclusive Promo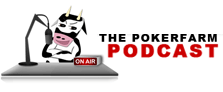 Catch up with the latest Pokerfarm Podcast.
Live From Cannes. Dinner With The Develfish