Day 5 – Welcome to Ballsville
March 8, 2011
As promised i woke up early Saturday morning, 10am, and sat down for a monster grind. I sat down, opened Holdemmanager, opened Carbon poker, got some tunes playing on Grooveshark, and promptly lost $1000 in 1500 hands. Not the best day so far, in fact, far and away the worst. As part of the rules of the bet i cannot lose more than $1000 in a day so i was forced to call it a day and have a moreorless poker-free Saturday.
My plans for the day scuppered, i sat down and ate a fantastic English breakfast, or the nearest you can get to one in Costa Rica, prepared by the lovely Stefanie and sat down to watch the Man City game which was dull beyond belief.
A little Fifa and Madden was not enough to keep my poker-obsessed mind occupied so it was off to Pokerstars for a spin-up. I had $80 in the account that i had forgotten about so sat straight down at a $0.25/$0.50 HU game with exactly 60% of my bankroll in play. Things went pretty well as i jumped from HU match to HU match, my opponents either quitting or going bust, as i ran the $80 up to $300, no thanks to this hand :
Poker Stars, $0.25/$0.50 No Limit Hold'em Cash, 2 Players
Poker Tools Powered By Holdem Manager – The Ultimate Poker Software Suite. View Hand #8131982
Hero (SB): $83.40 (166.8 bb)
BB: $50 (100 bb)
Preflop: Hero is SB with 9
9

Hero raises to $1.50, BB calls $1
Flop: ($3) 8
T
9
(2 players)
BB checks, Hero bets $2, BB raises to $8, Hero raises to $81.90 and is all-in, BB calls $40.50 and is all-in
Turn: ($133.40) 8
(2 players, 2 are all-in)
River: ($133.40) 3
(2 players, 2 are all-in)
Hero showed 9
9
and lost  (-$50.00 net)
BB showed 8
8
and won  ($49.50 net)
Good to know that all of my accounts run bad.
Simultaneously quenching my thirst for gambling was the NBC National headsup championship.  Ryan Brauer played bookie and set lines on all of the matchups. Tilted from losing on Carbon i gave Cruicks my picks and told him to bet the max on all of them. A decision i regretted deeply when i asked Cruicks how much i stood to lose -
"If you run really bad and lose them all, you'll lose 3000."
Luckily bets were placed in Rand so in fact i couldn't lose more than about $400. True to form i ran terribly and lost more matchups than i won, leaving me owing Ryan 750 Rand. I intend to wait at least a month to pay him by which time the exchange rate will drop that to well below $50. Good times.
After a little 2-7 nl single draw (awesome game that i'm going to get very good at when i have more time to devote to it, I see prop-bet potential) I decided to hop-off the spin-up train which inevitably leads to Bustoville and invest my winnings in a seat at Sunday's 5th anniversary $5million guaranteed tournament. My record in tournaments isn't too shabby and i had a funny feeling about this one …

100% bonus up to £1250
$5 Bonus released for every 350 WH points earned
Pokerfarm Sponsorship
Up to 50% value back with our sponsorship scheme.See Promotions page for details
$400 New Player freerolls
Recieve 4 tournament tokens for thier weekly $1000 new depositor freerolls.
Exclusive Promo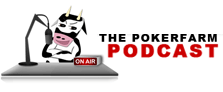 Catch up with the latest Pokerfarm Podcast.
Live From Cannes. Dinner With The Develfish