Day 6 Tourney time...
March 8, 2011
I woke up on Sunday filled with a sense of anticipation, expectation and indecision. Having played just 1500 hands on Saturday i knew i needed to play a lot of hands to stay on course for 200k hands, but at the same time i really wanted to take a shot at winning the $1.6million and Lamborghini Gallardo that would be awarded to first place. My head was telling me to grind Carbon, my heart was telling me to go for glory on Stars. My heart won and at 3.30 pm i sat down with 52000 other players for what must have been the biggest (in terms of prizepool) online tournament of all time.
After 10 hands it was clear that the field was soft. Super-soft. The standard of play was probably worse than in any other online tournament i have played (and i've played the daily dollar on Fulltilt). The problem was i couldn't hit a hand. I had a table of droolers and couldnt find a hand to play with them. Add that to the fact that every time i picked up something remotely playable a 9/7 nit would 3bet me, or i'd get 6 callers and whiff the flop, and i soon found myslef down to 4000 chips from my starting stack of 10,000. I was able to double up with JJ vs AT but the blinds were soon at 150/300 and when i shoved over a raise with 66 and got snapped by AA it looked like my tournament was over. And it was.
All was not lost however, as i had agreed to swap 20% with Arron, who was also playing it. Luckily Arron is a lot better at tournaments than cash so my dreams of a big payday were well and truly alive. Arron started to chip-up and had 3 times the average stack going into the 3rd break. I was pondering how we would split the Lamborghini when he decimated his stack in 2 car-crash hands and went out short of the money.
I tried to grind Carbon after this but my heart wasn't really in it and i ended up playing just 3000 hands and winning exactly $2.
A disappointing weekend then, just 4500 hands played and $1000 down, leaving me just a few thousand hands ahead of where i needed to be in terms of volume and $700 down for the month. Maybe this bet wasn't going to be a shoe-in after all

100% bonus up to £1250
$5 Bonus released for every 350 WH points earned
Pokerfarm Sponsorship
Up to 50% value back with our sponsorship scheme.See Promotions page for details
$400 New Player freerolls
Recieve 4 tournament tokens for thier weekly $1000 new depositor freerolls.
Exclusive Promo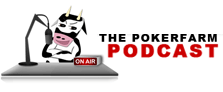 Catch up with the latest Pokerfarm Podcast.
Live From Cannes. Dinner With The Develfish