Days 12 and 13 – Healthy Body, Healthy Mind
March 14, 2011
After Friday's disaster i was keen to have a couple of beers to numb the pain. Luckily Adam and Cruicks finished their weightloss bet that day, Adam buying out for $450, and were keen to celebrate their new-found freedom from consumptive constraints with beer and fried stuff at Applebees. So Stef, Cruicks and I headed to Applebees where we met Adam and Ricardo. I had buffalo wings, mozarella sticks, cheeseburger sliders,  half a dozen beers and a good laugh. It was good times, it was not however great 'pre-match' prepration for Saturday's grind. I woke up a little hangover, at midday and feeling lothagic. I sat down to play and as much as i tried to play my A-game, i simply couldn't do it. Too many sloppy mistakes lead to a $300 loss albeit with 10,0000 hands played. It got me thinking about A-game; how important it is and how to achieve it. Below are two graphs, one from a morning session where i'm feeling fresh and focused and playing my A-game, and the other, an evening session where i'm tired, not 100% focused and playing my B-game.
The difference is clear. The truth is that i underestimated how hard it would be to play 200k hands and play well. I've never tried to put in that sort of volume and the affect of it has been a lot of B-game and not a lot of A-game and my results demonstrate that. It became clear to me that in order to win this bet i was going to have to play my A-game more and my B-game less. In order to do this Monday will see my return to the World Gym. When i've been gyming rgularly in the past i've focused harder, better and longer than when i havent been gyming. There is a direct correlation between my poker results and my gym-going. When i joined the World Gym i won $3000 in May, $5000 in June and $9500 in August. When i stopped going in September i lost$5000 and broke even or won or lost marginally every month since. I strongly believe that a healthy body creates a healthy mind, so i'll be back in the gym and hopefully going most days, if not every day of the week. It will take up a little time that could be used for playing but i think it will make grinding easier and more productive for me.
Anyways here is a graph of a swingy, frustrating weekend that leaves me $405 down after 92300 hands.

100% bonus up to £1250
$5 Bonus released for every 350 WH points earned
Pokerfarm Sponsorship
Up to 50% value back with our sponsorship scheme.See Promotions page for details
$400 New Player freerolls
Recieve 4 tournament tokens for thier weekly $1000 new depositor freerolls.
Exclusive Promo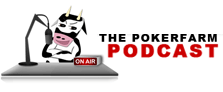 Catch up with the latest Pokerfarm Podcast.
Live From Cannes. Dinner With The Develfish