Days 24-27 – Nearly There
March 28, 2011
Just 4 days left in March and i'm almost there. I've played 175,000 hands and i'm winning $5900. I havent blogged because i've been playing until late and then heading straight to bed, too tired to entertain the masses with my lyrical prose.
Things have gone pretty well. It seems like God-mode has been deactivated but i'm still crushing, winning $1500 in 25000 hands and running $800 BELOW EV.
Last night was Dani's birthday and we all headed to Gaira. There Zee and Adam thought that their only chance of winning this bet came in the form of spiking all of my drinks with ludicrous amounts of vodka as well as duping me by getting me to neck tequila slammers whilst they slammed shots of water. I really didn't want to get too drunk knowing it would hinder my ability to play poker today but there i was at 3am vomitting into a flower bed. Good times. Subsequently I haven't put in the volume i wanted to today. 691 hands in fact. I tried to force myself to play but i'm too ill/tired/still drunk to do it. it's 8 o clock and i'm going to bed. Below is something that belongs in BBV, the graph of my last 50k hands – pretty sick

100% bonus up to £1250
$5 Bonus released for every 350 WH points earned
Pokerfarm Sponsorship
Up to 50% value back with our sponsorship scheme.See Promotions page for details
$400 New Player freerolls
Recieve 4 tournament tokens for thier weekly $1000 new depositor freerolls.
Exclusive Promo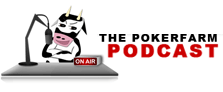 Catch up with the latest Pokerfarm Podcast.
Live From Cannes. Dinner With The Develfish