Days 3&4, losing with boats :(
March 5, 2011
The first thing I want to do is make a confession. I plagiarized the title of this blog. However it is, i believe, a more forgivable form of plagairism than that of Baron cut-and-paste or Gadaffi's son, as i have stolen the title from myself. I found my old blog
http://bones8.blogspot.com/
Perhaps my favourite sentence in the whole thing – "i have 6 buyins which should be enough to see me through the variance if i'm lucky" how little i knew. And variance is exactly what i've been experiencing the last two days. I'm 800 below ev and getting coolered for fun. This was probably the most frustrating one -
Hero (SB): $99 (99 bb)
BB: $106.35 (106.4 bb)
UTG: $40.49 (40.5 bb)
MP: $108.56 (108.6 bb)
CO: $103.88 (103.9 bb)
BTN: $28.50 (28.5 bb)
Preflop: Hero is SB with K
K

UTG raises to $2.67, 3 folds, Hero raises to $9.01, BB calls $8.01, UTG folds
Flop: ($20.69) K
8
9
(2 players)
Hero bets $12.34, BB calls $12.34
Turn: ($45.37) J
(2 players)
Hero bets $22.68, BB raises to $85 and is all-in, Hero calls $54.97 and is all-in
River: ($208.02) 2
(2 players, 2 are all-in)
Results:
$208.02 pot ($3.00 rake)
Hero showed K
K
and lost (-$99 net)
BB showed T
Q
and won $205.02 ($98.67 net)
End of day 4 i've played 34800 hands and i'm $300 in profit.
I'm going to try to put in a ton of volume the next two days and take advantage of the fishy weekend games.
Finally i want to see a big thank you to everyone following my progress and supporting me via facebook etc. It's much appreciated.

100% bonus up to £1250
$5 Bonus released for every 350 WH points earned
Pokerfarm Sponsorship
Up to 50% value back with our sponsorship scheme.See Promotions page for details
$400 New Player freerolls
Recieve 4 tournament tokens for thier weekly $1000 new depositor freerolls.
Exclusive Promo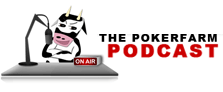 Catch up with the latest Pokerfarm Podcast.
Live From Cannes. Dinner With The Develfish