L-A-S VEGAS 2 times
July 21, 2011
In May I found out that a bunch of the guys here in Costa Rica were heading out to Vegas for the WSOP. I was desperate to join them but decided that with having to buy a flight home for July and recently having purchased a car, I didn't have the expendable income to blow a bunch of money over in Vegas. I decided that with Adam and Elliott out of the country and busy playing WSOP events, I might actually find myself at the top of the Doylesroom food chain (apart from BldSwtTrs obv) and have a chance to win some serious cash. So I set about crushing the 2/4 and 5/10 games on Doyles. 10 days later, my month looked lke this -
Needless to say, my flights were promptly booked.
I flew out with Stefanie on the Thursday night and spent a long weekend with her. It was really awesome to spend time in Vegas without being a total degen. We chilled by the pool, ate out a lot and did some touristy things as well as a bit of gambling. If anything Stef was more of a degen than me, convincing me to play "just a few more hands of Pai Gow" until 4am.
One thing we should have done was go to see a show. There's a tonne of shows to see in Vegas every night but none of them really appealed to me, other than Peep Show with Holly Maddison (not really something to go see with your GF), so we never did. We had a great time but Stef had to return to Costa Rica to continue CuponCafe duties late on Sunday night leaving me to Degen it up with the boys.
Over the next few days I didn't play any WSOP events, i just played a lot of cash where i won about $1000 and one tournament at the Venetian where i finished 15th of 850 entrants for $2500. Hands down the highlight of my week was when a  guy stumbled in and sat down at my $1/$2 game at Caesars. He was dressed smartly and was clearly smashed out of his head so I asked if he'd been to Pure. He replied in a thick Norwegian accent :
"Yes i go."
"I make fuck in toilets"
"But she bit fat and .... 2hours, i no come"
"So it no count"
Welcome to the table sir.
It was a fun week. Sadly too much Pai Gow, Blackjack, Green Machine (best slot machine ever) meant that my poker winnings were comfortably surpassed by gambling losses and i returned to Costa Rica penniless awaiting my Doylesroom payout.
On Saturday July 9th I woke up around 10am and headed upstairs to grind. I signed in to Skype where Zee met me with the words "Pack a bag, we're flying to Vegas to play the Main Event!"
Head assplode levels of excitement
Me, Zee and John Hewitt flew on the Saturday, making an overnight stop in Miami, and arriving into McCarran International on Sunday morning in time to play day 1d of the main event. The standard of play at my table was probably equivalent to the average table at the Raddisson $50 freezeout. In other words, they were all terrible. Unfortunately I just couldn't pick up any hands. When I say no hands I mean literally no hands.
In 10 hours of play I had QQ once (won the blinds) and AK twice, a few small pairs and a whole lot of Q5o, T4o etc. There really was nothing I could do. I barely made a pair all day and eneded up going out when UTG opened to 1000 at 200/400/25, small blind called and i shipped in 9k from the big blind with KK. They both called and both made straights on a 8JT9 board, with the small blind hilariously looking at the turn card, saying "o shit"  before betting 2k and snapping an allin with AQ. UTG showed up with an equally hilarious 77. So it wasnt my year to win the main event, hopefully next year.
On the plus side I shrewdly swapped 1% of my action with John. It was an amazing run and was so brutal that he got so close to the November 9. $600k will help ease the pain no doubt and all credit to John for handling his exit as he did. WP mate, what a journey and what a WSOP!

100% bonus up to £1250
$5 Bonus released for every 350 WH points earned
Pokerfarm Sponsorship
Up to 50% value back with our sponsorship scheme.See Promotions page for details
$400 New Player freerolls
Recieve 4 tournament tokens for thier weekly $1000 new depositor freerolls.
Exclusive Promo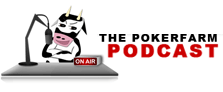 Catch up with the latest Pokerfarm Podcast.
Live From Cannes. Dinner With The Develfish