Luck of the Irish?
March 5, 2011
Day 2 started early (10am) and badly. I performed my usual routine of checking emails, checking Cricket World Cup scores ('oh we're smashing Ireland that's good') checking Facebook, browsing twoplustwo, then fired up some tables and started playing some hands. Things got off to a pretty bad start when i called a raise on the button with 8c 9c and the flop came 7c 9d Jc and i end up getting it in vs KK and bricking my million outs. Then things got worse. Cruicksie or 'the chubby bok', as i like to call him, came crashing into the office predicitng a victory for his, and i quote, "homeside" vs England in the cricket. Now Cruicksie has some pretty messed up lineage with a Scottish last name, Dutch middle name, South african parents and Irish grandmother, however Ireland is not his hometeam, he just likes to be an arse. But how could they be winning? They were 111-5 chasing 330. Well it turns out that Kevin o Brien was in the process of scoring the fastest world cup century of all time and England were bowling a big heap of pies and dropping half a dozen catches to let them back into the game. Ireland played fantastically, and not to take anything away from their perfromance, it was pathetic from England. How Michael Yardy can play international cricket is beyond me. I thought we had moved beyond the days of dropping half of our best players for a bunch of clowns, but old habits die hard i guess. How can we ever be taken seriously as a one-day side when we give matches away like we do? Lucky this format of the game will be extinct within 5 years and we focus on 20twenty (world champions) and test cricket (ranked 3rd in the world but after dicking the aussies, arguably the best)
So somewhat tilted by England's performance, it was back to the grind. And back to the misery of the carbon doomswitch. For 45 minutes i did not win a hand. I lost AK to JJ, JJ to AQ, 99 to Q8s and ran QQ into KK and KK into AA (I even managed to bink a King but it ran out  T J K 4 Q to give him a straight.).  I have a daily loss limit of $1000 that i must stick to. This means that if i get to $1000 down  for the day i cannot play anymore hands. At $585 down after 700 hands It was looking as though i was headed for an early bath. Luckily i didn't panic, didn't tilt and was able to grind it all the way back to even -
From this point until 7pm i played moreorless non-stop with only a couple of half hour breaks. Things went great. I felt fully focused, fully in control and was crushing. Come 7pm i had played 6000 hands and was $750 up. At this point Stefanie asked me if i wanted to go with her to pick up the chubby bok from the office, and having not left the house for 3 days i decided a bit of fresh air was in order. A quick trip round the corner form Guachipelin to Escazu, turned in to an hour of walking around the office chatting to people, waiting for Cruicks to finish his sports games, and then dinner out at La Fabrica once he had decided that actually he wasn't going to finish until 10pm.
It was not until 9pm therefore that i got back to playing. Day 1 saw me almost destroy all of the day's hard work with one bad evening session so i was determined that the same would not happen again on day 2. Alas, the will of the poker gods is beyond my control and as i much as i willed a win, i could do nothing about losing every single preflop allin. I sat and i grinded but things only got worse and at 2am i decided to call it a day and go to bed.
Evening Session :
Day 2 :
Challenge so far :
So despite a bitterly disappoitning end to day 2, I am still way ahead of schedule with the hands and almost $1000 in profit.

100% bonus up to £1250
$5 Bonus released for every 350 WH points earned
Pokerfarm Sponsorship
Up to 50% value back with our sponsorship scheme.See Promotions page for details
$400 New Player freerolls
Recieve 4 tournament tokens for thier weekly $1000 new depositor freerolls.
Exclusive Promo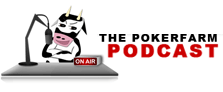 Catch up with the latest Pokerfarm Podcast.
Live From Cannes. Dinner With The Develfish