My 200k hand challenge
March 4, 2011
Frustrated by my own lack of volume and inspired by Ashton Griffin's marathon propbet, i decided to see if i could get action on me playing 200k hands in March. Seeing as my biggest month to date has been 55k hands, my pitch to Degen, Elliott and Craig was met with a mixture of ridicule and a chorus of "snap". The basic rules were agreed as follows :
I must play 200k hands between midnight March 1st and midnight March 31st
Only hands played at 100nl or higher will count towards the 200k
All hands must be played on Carbon poker under username 'JFromInbetweeners'
Only I can play hands on the account i.e. I cannot employ a 3rd party to play hands on my behalf
I must finish the month in profit not including rakeback
I will have a daily loss limit of $1000
Bets will pay at 1:2, i.e you bet $100 to win $50
Full terms and conditions of the bet can be found here
I'll posting regular updates here and on the Poker Farm blog (if Arron can be bothered to upload them) and tweeting at
So far, Elliott and Adam have bet $800 each and Zee has bet $500. I'm looking to book a maximum of $5000 in bets so there's $2900 of action up for grabs and 2 days left to bet

100% bonus up to £1250
$5 Bonus released for every 350 WH points earned
Pokerfarm Sponsorship
Up to 50% value back with our sponsorship scheme.See Promotions page for details
$400 New Player freerolls
Recieve 4 tournament tokens for thier weekly $1000 new depositor freerolls.
Exclusive Promo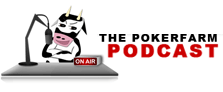 Catch up with the latest Pokerfarm Podcast.
Live From Cannes. Dinner With The Develfish