Onwards and Upwards
April 8, 2011
Once again I want to thank everyone for the congratulatory messages on Facebook, MSN, Skype, Twitter and The Pokerfarm Forum.
I've also receievd a fair bit of interest in what i'll do with the cash, as if giving it away might be an option. Well sadly, seeing as how the majority of it has gone on clearing debts, overdrafts, credit card and rent, I'm not actually left with that much to splash around with.
The first thing i did was make a donation to the Red Cross Japanese Tsunami Relief Fund. The things that happened out there kind of put my EV worries and badbeat stresses into perspective. It's clearly a very wothwhile cause and my existence doesn't benefit society in any other way.
I imagine I will also spend a fair amount in general living expenses this month as Stefanie's mother is here for a couple of weeks so i expect to spend a lot of time in retaurants and bars in addition to the time spent in Puerto Viejo, where we're going for a few days next weekend. Will be nice not to be counting the pennies, but need to be careful and not get myself into the situation i was in before, i.e. flat-broke.
I'm also considering investing some of my winnings into coaching. I'm making a really big effort right now to improve as a player and keep moving up. I'm not happy stagnating at small stakes. I want to keep improving and move into mid-high stakes. In order to do this I have cut back on tables, am paying a lot more attention to player tendencies and note-taking and am spending a lot more time working on poker away from the tables via session reviews, forums, videos and analysing my database for my own leaks and ways to exploit my opponents. I think coaching will catalyse this process and help me progress even quicker.
So far, this month has gone fairly well. I have moved up to $1/$2 and run pretty well. I also think fewer tables and greater focus has made me play much better, evidenced by my much improved redline. The volume hasn't been great so far due to me enjoying my freedom a little too much but that will improve. Originally i had wanted to play 100,000 hands this month but with the slow start and with taking a few days off later in the month, I 'm revising that to 70,000 hands. Below is the graph of the month so far :
What Others Are Saying
1 Comment about Onwards and Upwards

100% bonus up to £1250
$5 Bonus released for every 350 WH points earned
Pokerfarm Sponsorship
Up to 50% value back with our sponsorship scheme.See Promotions page for details
$400 New Player freerolls
Recieve 4 tournament tokens for thier weekly $1000 new depositor freerolls.
Exclusive Promo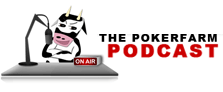 Catch up with the latest Pokerfarm Podcast.
Live From Cannes. Dinner With The Develfish