Poker Hispano Tour 3 - Part One
Sept. 2, 2011
On Sunday August 21st The Poker Hispano Tour came to Costa Rica for the second time in this, its third season. It offered 5 events: Two $50nl turbos, a $300nl turbo, the $1500 main event and a $500 second chance. After a good month on the online felt in July I decided to play as many events as possible. The last time the PHT was in town, Elliott made 3 final tables including that of the main event and achieved superstar status at the No Limit Club as well as winning the player of the series trophy. I felt like I was playing better than ever right now and wanted to follow in the footsteps of the great WTFisfolding and bag me a trophy.
Event 1 was the $50nl turbo. You began with 7500 chips with a 20 minute clock and blinds starting at 25/50. At 50/100 with around 11k in chips I found AK under-the-gun and shipped it in. Ex poker-farm aggrotiltmonkey Juan 'Badbetas' Ruiz had TT and reshipped. The dealer fanned a 334 rainbow flop. I was reasonably confident that the poker Gods would punish him when he called for a deuce on the turn. Alas it came 7, 8 and I was eliminated before the dinner break. In fact none of Me, Elliott, Craig, Dan or Gallo made the dinner break. Dave put in a good showing making the final 3 tables but just missed out on cashing.
Event 2 was a $300nl turbo. In actual fact it wasn't particularly turbo with 30 minute blinds and 12,500 starting chips. I registered late and ended up at a table full of sharks. That's sharks by Costa Rican standards which is basically anybody who knows that a straight beats a flush. Nevertheless I was able to get off to a decent start opening a lot of hands and dragging a lot of pots without showdown which is unusual for me. Normally when I play live, people think I'm a timid kid (I look about 16 years old) and try to push me around, meaning if I don't hit cards (which I never do) there's not much I can do. Somehow I was able to project a more confident intimidating image at this table and chipped up to around 15k. My first interesting hand came when I opened K9hh UTG and got a quick call from the BB, an aggressive slightly fishy guy called Luger. The flop opened AT7 rainbow and he checked. I felt that a cbet was never getting thru vs this guy with him check-raising as a bluff decently often and never folding a piece so I checked back. The turn was the 8h giving me an up- and- down and a flush draw. Luger led for 2x pot. It felt like it was never a pure bluff and was much more likely to be a strong but vulnerable made hand 78, 7T, 8T, A7, A8, AT etc. or possible some sort of combo draw 78hh, JQhh. Either way I felt I definitely had the implied odds to call with 10k behind so I made the call hoping to get there. The river was an offsuit Jack completing my straight. Luger now led for 5k, again 2x pot. I thought briefly about raising but decided that he was going to show KQ or a retarded bluff a lot more than a set or two pair and called. I was wrong, he showed AT and nearly exploded when he saw my hand. I don't think he saw the 4 straight lol. That pot got me to 23k and I started to believe that I might actually make a dinner break, something I'd never done at the no limit club previously ! 2 hands later, Luger opened the CO and the BTN called, I squeezed AQ for value from the SB. Luger made a snide remark about my ability to make creative plays before calling 1200 of his 5000 stack. The flop came Q44, I led small, he called. The turn came an A and I check-raised all-in. Luger snapped showing 45o. Nice play pre. The dealer burned and turned a Q to give me a boat and send him out of the room in a state of apoplectic rage. LOL. I was up to 30k and set about dominating the table and chipping up. Unfortunately I made straight under straight and lost a flip vs. a short stacker and was back down to 18k when the following hand came up at 150/300/25. A young weak-tight bad player open limped the lowjack. He had already shown down JJ from this spot and nothing too junky so I overlimped the CO with 22. In retrospect I should iso but I just felt his range was beating me and I didn't think he'd fold too willingly on many boards. The button, the next best player at the table isoed to 1200 and the limper called. Getting 3.5-1 direct odds and good implied odds I called as well. The flop Came AJ2 ddd, the limper checked, I checked, and BTN checked behind. The turn came a 6o and the limper lead for 1500. I felt raising overrepped my hand and with one card to go I only had to dodge about 10 bad river cards so I called and the BTN overcalled. The river bricked off and the limper lead again for 1500. I called pretty quickly expecting the BTN to fold and to beat the limper the majority of the time. The BTN had other plans and raised to 6000. The limper dwelt a few minutes and folded what he said was AJo. I went through things in my mind and decided it didn't make a whole lot of sense. I thought he would definitely bet his small and medium flushes on the flop and probably his nut flushes a decent percentage of the time. I also thought he would never play a higher set or two pair this way. So seeing as his value range was exactly Kxdd and knowing that he was isoing the limper light and capable of turning various hands into bluffs I made the call and he mucked. He then proceeded to mutter about how bad a call it was because he would always play a flush that way. Whatever.
With 50 players left I got moved to a table that was a who's who of Costa Rican poker. Warner Salas (Online MTT shark) Alex Brenes (supposedly the best player in the country and brother of Humberto) Steven Thompson (Supposedly the best live tourney player in the land) Juan Carlos Egea (ex Pokerfarm grinder with notable live and online success) Alfredo Ulloa (live shark). Meanwhile I didn't recognise a single face on any of the other tables. I had to play pretty close to the vest but did ok winning several small pots and one medium one when I 3balled Steven's UTG open with JTo. Not too close to the vest then ! With 18 left I got moved again and found it hard to pick up chips with people moving in most hands and losing 99 vs A8 vs a medium stack to get me quite short. Luckily I was able to bust Warner with AJ vs his A9 open ship and a couple of eliminations on the other table got me to the final table of 10 and into the money about 5th in chips.
I raised the first 4 hands at the final table uncontested after being dealt AK, AQ, 99 and AQ. When I raised the 5th with JJ the BB moved in with KQo and I won to put me around 2nd in chips. Then 6th hand I looked at JQhh UTg and couldn't resisted opening to 7200 at 1500/3000/300. A good young online pro made it 17k straight and the BB called allin for 16.5k total. I didn't love it but with that kind if price I called the extra 10K and went to the flop knowing that the online guy would play pretty honest with the BB all-in. The flop came 247hh giving me two overs and a flush draw. I checked and he bet 24k, under half the pot. I felt he wasn't messing around almost certainly had QQ+ that he wadnt folding. I was gettingbetter than 3 to 1 with great implied odds and little to no fold equity so I called. The turn came a Kh completing my flush and I checked again. He now moved in for about 90k total, I snapped and he showed KK for a turned set. The river bricked off and I catapulted to a big chip lead. The table was set up perfectly for me to open loosely with 3 stacks between 3 and 9 big blinds and 3 stacks between 15 and 20 whilst I had almost 50. I opened every hand and 3bet anything with equity vs a stacking range and built my chips up quickly. I busted a couple of the shorties and found myself playing 5 handed with Steven Thompson, Juan Carlos Egea, Alex Brenes and Gino Guidi (no limit club regular.) Juan Carlos was unlucky to bust with AK to Alex's AQ All-in pre before Alex went on to bust Steven with 99 vs AK. 3 handed play lasted a while with me opening and 3betting much more than either Alex or Gino. Eventually Alex decided to make a stand shoving 23 bigs over my Button raise with 9To. I had QQ and held to go headsup vs Gino for the first prize money of $7000 and a big cheque with my name on it.
Gino had played very patiently during the final table but now played far too tight for heads-up. He was open folding over 50% of his buttons and limping the other 50%. From the big blind he was defending maybe 25% of the time and always with a call rather than a 3-bet. This made it very easy for me to win a ton of small pots. I felt in complete control until I raised A5 on the button, he called. The flop came A82hhh. He check/called. The turn was a 5o, he checked, I bet and he shipped for a little bit more than my bet. I called and he showed 45hh for a flopped flush. This gave him a 3-1 chip lead but I was able to win all of the uncontested pots and get back to even. It was at this point that the sun rose and people started to get anxious for a winner as the club was supposed to close at 6am. We agreed to chop 1st and 2nd money and play out for the title with blinds increasing every 5 minutes. About 10 minutes in I picked up JJ and raised, he shipped A8 from the big blind and binked an A on the turn. This crippled me and he won the next hand when I shipped 3 big blinds and he called with 22 and held vs my 36o.
I was gutted not to win. I really wanted to get my photo taken and be presented with the cheque but I had $5000 in cash in my pocket to soften the blow. It also meant that I could definitely afford to play the main event ....
What Others Are Saying
1 Comment about Poker Hispano Tour 3 - Part One

100% bonus up to £1250
$5 Bonus released for every 350 WH points earned
Pokerfarm Sponsorship
Up to 50% value back with our sponsorship scheme.See Promotions page for details
$400 New Player freerolls
Recieve 4 tournament tokens for thier weekly $1000 new depositor freerolls.
Exclusive Promo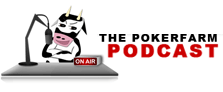 Catch up with the latest Pokerfarm Podcast.
Live From Cannes. Dinner With The Develfish