Preparation...
March 5, 2011
I had no idea if this sort of volume was possible so decided to do a little dress rehearsal on Friday. Up at 10am and started playing.
Come 2am Saturday i had played 8.5k hands and won $100. Not the sickest bb/100 in the world but showed that at an average of 6.5k hands/day 200,000 would be a breeze! It also showed that I could grind it back from a bad start, having been -$500 within 1000 hands.
All that left to do was sort myself out with a nice setup where I could grind away the month. Previously I had been using 2 monitors balanced on a bookcase and the world's most uncomfortable chair – I woke up saturday feeling as though I had been violated. So I decided to invest $300 and 6 hours of my life buying and building a desk and office chair. The chair was easy, the desk less so. But after working my way through the 15 page (yes 15 page) instructional manual, she was built.

100% bonus up to £1250
$5 Bonus released for every 350 WH points earned
Pokerfarm Sponsorship
Up to 50% value back with our sponsorship scheme.See Promotions page for details
$400 New Player freerolls
Recieve 4 tournament tokens for thier weekly $1000 new depositor freerolls.
Exclusive Promo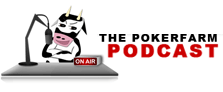 Catch up with the latest Pokerfarm Podcast.
Live From Cannes. Dinner With The Develfish