The share double-doomswitch
Jan. 25, 2011

After a couple of months of really sub-par poker i've felt back to my best lately. I've found the fold button in the right spots without just folding everything and i've felt tuned in to my opponents tendencies and exploited them. All this has lead to me beating 100nl at a decent clip this month. So with my game back and my confidence (and perhaps more importantly p+l) up, i jumped back into the 200nl games this week. here is it how it went :

http://img46.imageshack.us/i/lastweek.png/

See what most people don't know is that Share does not want you to move up. I think it unbalances the matrix or something, so when you do move up they doomswitch you to move you back to your rightful place. I was expecting this, so when i got flush under flush, set under set, Ak to AA etc. all within 2 minutes of eachother and lost $1800 within 500 hands, i was not surprised. I had felt the wrath of Share. But i survived. I weathered the storm. I stuck it out and played on and lo and behold the rainbow and the boomswitch. But Share was angered by my disrespect. It had shown its displeasure at my decision to move up and struck down upon me with great vengeance and furious anger (ezekial 25:17). alas i had shown no mercy and so i was to feel the wrath of Share once more. The seond doomswitch was swift and painful and when the dust cleared, my month's hard work had been obliterated.

The lesson here must be : Thou shalt not upset the natural order. Knoweth thy role and when Share shows its displeasure at your actions, retreat back down the level with tail between thy legs.

To please share i will be back at 100nl for the remainder of the month, and before i next move up, I intend to offer a member of my group as a sacrifice.
What Others Are Saying
4 Comments about The share double-doomswitch

100% bonus up to £1250
$5 Bonus released for every 350 WH points earned
Pokerfarm Sponsorship
Up to 50% value back with our sponsorship scheme.See Promotions page for details
$400 New Player freerolls
Recieve 4 tournament tokens for thier weekly $1000 new depositor freerolls.
Exclusive Promo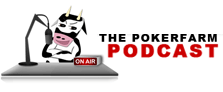 Catch up with the latest Pokerfarm Podcast.
Live From Cannes. Dinner With The Develfish