The Pokerfarm Hit Vegas....
May 27, 2011
Well it's been a whirlwind couple of months for The Pokerfarm with the re launching of our website and preparations for this year's WSOP. A lot of hard work has gone into preparing for Vegas and everyone is excited to get the series underway and the camera's rolling....
Our production team can almost rival the talent of our players representing The Pokerfarm this summer and they will no doubt have their work cut out covering the ups and downs of this highly talented group. This years most notable names include 2010 WSOPE champion James Bord, European Player of the year Sam Trickett, WSOP November niner James Akenhead, EPT winners Toby Lewis and Jake Cody, not to mention one of pokers most flamboyant and illustrious characters...Luke Schwartz. There are plenty more on this list and I'm sure we will be sweating some deep runs and final tables this summer.
Whether or not The Pokerfarm can go the distance and take home a bracelet remains to be seen but I wouldn't bet against it. If you're looking for good value and a variety of betting markets for this year's WSOP then I would recommend checking out Matchbook's new look site which will be covering the series in full with an array of markets and good liquidity.
So covering the exploits of all of this will be the Voice of poker himself, Jesse May who will be there alongside The Pokerfarm team day in day out brining you all the news, updates and going on from the RIO and beyond. To keep everyone following us entertained throughout we also have our resident crazy Scotsman, Rury Mason who will be delivering some more lighted hearted features from Vegas and generally getting up to no good. If you haven't already seen this guy in action perving over all the beautiful women in the world of poker you can catch a preview here. And last but not least we have the always entertaining and always seemingly broke Jean-Robert Bellande who will be doing regular video blogs providing his insight into surviving the series. More interesting than that, he will be our man brining you exclusive updates from inside the biggest cash games in Vegas over the series. The players, the sorties, the big pots and the suck outs, Bobby will be there telling it all.
Also launching this summer will be The Pokerfarm's podcast. Expect some big name guests as well as a host of The Pokerfarms players giving you there tips and strategies on how best to tackle Vegas during the series.
So make sure you stay up to date with The Pokerfarm during this year's WSOP as we will be hosting daily videos and competitions, free rolls and sponsorship opportunities for all our members. If you haven't yet seen one of our first launch promotions make sure you check out our $500 freeroll on William Hill on the 9th of June. There will be much more in store from us so don't go anywhere.
Thanks

100% bonus up to £1250
$5 Bonus released for every 350 WH points earned
Pokerfarm Sponsorship
Up to 50% value back with our sponsorship scheme.See Promotions page for details
$400 New Player freerolls
Recieve 4 tournament tokens for thier weekly $1000 new depositor freerolls.
Exclusive Promo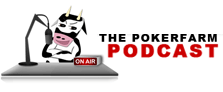 Catch up with the latest Pokerfarm Podcast.
Live From Cannes. Dinner With The Develfish