What you can expect from us
Nov. 15, 2010
The Poker Farm will have a unique poker community and social network platform allowing players to make new friends easily, interact with each other, learn, discuss and further their poker knowledge. Since The Poker Farm runs its own staking operation in 4 different countries and employs over 200 staff we will have a very active and energetic community which will stem from our core business. All of our players, trainers and management team will be active in ensuring our community is populated with interesting and insightful content, whether that is in the form of our forum, blog, video or news and strategy sections of the website.
We have a huge pool of poker knowledge and can't wait to share it with the community. There will be a mix of fun and quirky features and content to keep everyone entertained, mixed in with insightful and advanced poker content to help all our players develop their poker skills.
As a Poker Farm member and active player on one of our 4 partner sites you will be able to participate and take advantage of our loyalty reward's program by earning Poker Farm points. You will be able to use these points for a huge variety of things including poker free rolls, online private tournaments, live and online tournament entries, online live training seminars as well as shopping in our very own Poker Farm shop!
Did I forget to mention you may even win or entitle yourself to an exclusive Poker Farm staking offer or even a trip to one of our exotic offices to learn and play with our fellow pros whilst being treated as a true VIP with our 5 star holiday packages.
Our website should cater to all poker players, from novices to season pros, with enough investment and rewards in our players to keep everyone happy! The launch of our website will coincide with a lot more online and offline marketing of our brand and players themselves so you can expect big things from The Poker Farm this year!

100% bonus up to £1250
$5 Bonus released for every 350 WH points earned
Pokerfarm Sponsorship
Up to 50% value back with our sponsorship scheme.See Promotions page for details
$400 New Player freerolls
Recieve 4 tournament tokens for thier weekly $1000 new depositor freerolls.
Exclusive Promo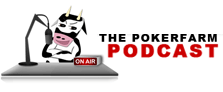 Catch up with the latest Pokerfarm Podcast.
Live From Cannes. Dinner With The Develfish