Who are The Poker Farm and what do we do?
Nov. 15, 2010
Well surprisingly The Poker Farm has now been around for approximately 2 years, but we have just been keeping a very low profile from everyone else and keeping our operation 'offline'. The Poker Farm is an online poker training community sponsoring some of the best players around the world. We have a very stable and successful staking operation and are now taking big strides to grow the business internationally by opening up new 'poker farms' worldwide and developing a unique staking, training and poker community website.
We have 'poker farms' set up in various cities across the globe and offer a bespoke playing environment for players who are passionate about the game, eager to learn and strive to move forward in their poker careers. Our aim is to develop the largest poker community in the world through our training and sponsorship of players. We provide players with full support, staking, management and development of their games.
We have some very successfully trainers and players on our roster and this year as a treat to some of the best of them we decided to be overly generous and take 10 of them to the WSOP for a month. I won't spoil or bore you with all the details about this but you can check out how they got on in our video section of the website. Sam Trickett was our stand out man for the series cashing in over $500k and is one of Europe's hottest poker talents out there at the moment.
So why have we now decided to launch our website? We have been working long and hard deliberating over how and when to launch our online site and what we want to offer our members and the poker community as a whole. We wanted something fresh and different and we believe we have a website that all players will enjoy and benefit from being part of. ThePokerfarm.com will be a unique and interactive poker community and social network site. It will focus heavily on:
Investment in our players through our main partner sites.
A superior rewards program for our members.
Unique and advanced player development and strategy features to ensure all our members get maximum value.
Training and staking opportunities.

You will have to take the time to look around now for yourselves and find out exactly why you should join The Poker Farm and become a member of pokers soon to be number one community and player development network. It's easy to join and completely free.
1218 Views
|
Comments (0)

100% bonus up to £1250
$5 Bonus released for every 350 WH points earned
Pokerfarm Sponsorship
Up to 50% value back with our sponsorship scheme.See Promotions page for details
$400 New Player freerolls
Recieve 4 tournament tokens for thier weekly $1000 new depositor freerolls.
Exclusive Promo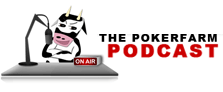 Catch up with the latest Pokerfarm Podcast.
Live From Cannes. Dinner With The Develfish