Live Tournament Roundup
Sept. 21, 2011, Posted by Pokerfarm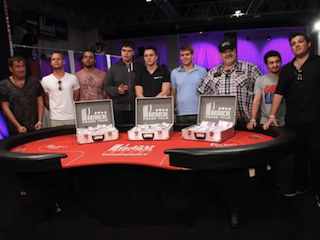 The live tournament scene was very active for the past week and we're bringing you all the important news from all the major competitions.
The World Poker Tour's last stop ended ten days ago and the trophy was directed across the Pond. Matthew Waxman of the United States lifted the WPT Grand Prix de Paris trophy and was the first American player to win this particular event. Waxman came on top of the 312 player field and took home €500,000. The most interesting thing about his win is the fact that his heads up battle lasted only two hands. French player Hugo Lemaire was on the other end of the green felt and on the other side of variance. On a flop of 5c3cQh Lemaire made a standard c-bet and then quickly called Waxman's check-raise all-in with a weak top pair. Waxman showed a combo draw with 8c9c and was slightly behind, with the turn of 6h giving a bit more outs. The American managed to spike a ten of clubs on the river and we saw the French player pick up a nice consolation prize €311,100.
Another big tournament was over right around the time the Paris WPT ended. The Epic Poker League Main Event #2 saw a field of 97 players and a $20,000 rake-free buy-in. Mike 'Timex' McDonald added $782,410 to his total career winnings and won himself a nice champion's ring after more than twelve hours. He gave himself the best possible present as he was celebrating his 22nd birthday the very next day. The final table saw many big poker names, such as Erik Seidel and Isaac Baron, but Mike managed to come on top of the competition after beating David Steicke heads up. McDonald was behind when the two went heads up, but slowly managed to build his lead and eventually win a big flip with pocket sixes against Steicke's ace-queen. The rest of his super-short stack went in with king-deuce and was quickly called by McDonald's ace-four. The board didn't have any surprises in store and Steicke was left with 'only' $506,260 to his name.
Meanwhile in the beautiful city of Cannes players battled for a million euros first prize. The Partouche Poker Tour Main Event was held on the Cote d'Azur and saw 579 players willing to pay a €8,500 entry fee. Our very own Sam Trickett is currently on top of the remaining nine player field and will be delighted to see himself on EuroSport in November when the finalists meet again. Sam had a great tournament and is in a great position to scoop the massive million euros win. We wish him the best luck as well as all the other players. Here is a list of Partouche Poker Tour Main Event November Nine:
Sam Trickett: 2 605 000
Alexandre Coussy: 2 473 000
Fouad Salman Behbehani: 2 446 000
Mads Wissing: 2 144 000
Mustapha Kanit: 2 047 000
Roger Hairabedian: 1 890 000
Oleksil Kovalchuk: 1 626 000
Ilan Boujenah: 1 241 000
Alexander Dovzhenko: 944 000