My Last Few Months
July 10, 2011
Hi
I am currently residing in Costa Rica with several other online poker players helping train poker players from The Pokerfarm. When I first moved to Costa Rica 14 months ago I was playing extremely well, studying a lot and getting decent results. A few months later something happened in my personal life and my poker went very downhill, after having my first losing month in well over a year in July last year I completely fell out of love with poker. The next 3 months were horrific for me and I can not even remember the amount of times I asked Mr Zeeman to zero my account. Every day I complained about running bad, getting coolered and saying how rigged online poker really is. Deep down obviously I knew I was just playing badly. I just use to sit on the computer, load up 8 tables and drop 2k every session and after every session I use to shut my HEM just so the boys in the house couldn't see the embarrassing poker I played. The one thing that affected me over the next 3 months was getting the motivation to play, the problem is when your chasing a 40k downswing and you have dropped down to 200NL it is really difficult to see an end goal. Then suddenly someone joined The Pokerfarm in Costa Rica and I believed he had the talent to go a long way, so I started to help him daily at 50NL, and in doing so did several sessions with him watching me play. Being the head trainer of The Pokerfarm, if someone watches you play you better make sure your playing well. I still remember the very first time he sweat me, I was 4 tabling and took a reg for about 16 buyins at 50NL and thankfully in the session I played close to perfectly.
Later that night we all went back to the house and I sat in my bedroom staring at the last 3 months poker I had played on my HEM. For the first time in 3 months I could look past the -40k EV and see every single one of horrific hands I played. I must have sat their for 3 hours watching all the same mistakes and spew in thousands of hands. Later that night the boys were sitting in the house playing a friendly home game which usually resulted in Adam Reynolds doing his balls to myself and Mark. So they asked me if I wanted in and I declined as I was desperate to get on the computer and grind for a few hours. Obviously at 10PM CR time it is very difficult to get games on the European sites so I sat their and played whatever stakes I could from 50nl all the way to 1kNL.
1 hour later I their were literally no games available on microgaming and I booked a $2k win. For the first time in a few months I was excited to play poker again. The next 3 months I played mainly 100nl and 200nl and got myself out of a 40k hole, and I am more than happy to tell everyone that at times I ran extremely well.
The last 6 months have been very different. As many people know Adam and I decided to start splitting our profits 50-50 from January. At the time I was helping Adam with his game and could see he had serious potential but just wasn't getting the results he deserved mainly due to lack of believe when moving through the stakes. At the time Adam was playing 200NL and I was playing 400NL. Let's just say we didn't start the year too well, several mouse's got smashed, a laptop got smashed and Adam wanted to quit poker. However after some decent poker and extremely late nights we managed to get in profit for the month which gave both of us a lot of confidence. The
Next month went extremely well for both of us, Adam finally got rewarded for his efforts and won around 20k at 200nl and I won a similar amount on merge playing 400nl-1kNL. Along with that I cashed for around 20K in some live tournaments and backed future superstar Mr Hewitt in a tournament who managed to cash for $33k.
In March I decided to go back to London to see my friends and family. Along with this came a 3 week break from online poker. Whilst I was enjoying myself in London Adam was in Costa Rica notching up a ridiculous $30k winning month at 200NL. I arrived back in Costa Rica in time for the start of April; I decided that the software on Merge really wasn't for me so I decided to move to full tilt. With Adam having made me 15k in March while I was in London having fun I decided I owed him an extremely good month. I told myself I was going to put serious volume and my target was a 30k month. However unfortunately things didn't go as planned, one week in a had played 60k hands was 5k down playing badly and about 8k below ev. All grinders out their no that is a lethal combination, playing bad and running bad.
I kept grinding and eventually finished the month around 3k up and Adam winning again over 30k playing 200 and 400NL. I was obviously delighted with his win rate but then again also felt like I was letting us down.
Although I loved the volume on Full tilt I actually couldn't really get use to the software and found the games a bit nitty and boring so I decided to do something I thought I would never do, start grinding on I Poker. The people that have watched me play online all no that I like to take my time and think about my decisions, well the problem with ipoker is it has no time bank. 3 days into my time on IPoker I was stuck 15k and could not see a way out. Even though I had watched Adam play on their for hours and hours I just could not adapt to how aggressive the games were. I found myself timing and out and making horrific decisions. This time it was very different to a year back as now I believed I could get out the hole with ease, all I had to do was learn to adapt to the aggro IPoker regs. I started playing 4-6 tables instead of 10-12 and over the next week won around 5k back. I was feeling great and knew I was going to start beating the regs up badly.
The next 7 days Both Adam and I won around 23k and were heading for our best month yet. It came to the last day of the month and we were around 42k up for the month and sitting playing fifa 2011 contemplating whether to have one last session before the month ends. I opened my laptop and noticed their was a big fish sitting with 16k on a 5 10. I ended up playing Omaha with him and Adam played holdem with him and we proceeded to take around 15k in 20 minutes.
James Bord offered several of us backing for the World Series and obviously that's just an offer you can't turn down and it just doesn't matter how well you're doing on the net. So 7 of us decided to get a house in Vegas for the 10th June go and try and win a bracelet. The first 9 days of June I needed to play a lot of poker to cover my love for wasting money and love for table games. It all went my way and seemed to be playing as well as I could have played and won just under 40k in the 9 days. It was a great feeling as I won some money that felt I owed Adam. On the 10th June we all flew to Vegas and I was really excited to be getting the chance to play as many WSOP events as I wanted to. 3 days later, 3 tournaments gone and only about 8 levels played I lost all my excitement for the WSOP. I really can not get my head around why so many people play the live circuit, yes I can understand its a fun lifestyle and you get to go to great places with your mates but their really is a ridiculous amount of luck involved. I am not going to mention any names but I Played with some guys who people say are great live tournament players and yet their thought processes are very basic and very far behind the people I play online with. This being said I am not proud how I played in the WSOP and if I'm honest I didn't even give myself a chance of going deep in any tourneys. I am a bit upset I did not play as much cash as I would have liked but had decent results when I did play. Obviously the table games went as expected even though I started around 8k up that quickly turned around and went as expected thanks to that ridiculous game pai gow.
Since back from Vegas Adam and I have started pretty well and we are up 30k for the month so hopefully it will continue to go well for us. The next few weeks I think I am going to start playing 1kNL on IPoker and their seems to be some real decent action their so I will keep you updated with my results. Well done to The Pokerfarm as we have had a great start to the month, especially Mark and Arron lets hope it continues.
Gl at the tables.
Elliott
743 Views
|
Comments (14)
What Others Are Saying
14 Comments about My Last Few Months

Hometown:
London
Country of Origin:
GBR
Lifetime Winnings:$75,000 Career Titles: 1 2011 POY Rank: N/A

100% bonus up to £1250
$5 Bonus released for every 350 WH points earned
Pokerfarm Sponsorship
Up to 50% value back with our sponsorship scheme.See Promotions page for details
$400 New Player freerolls
Recieve 4 tournament tokens for thier weekly $1000 new depositor freerolls.
Exclusive Promo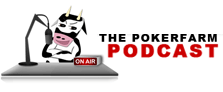 Catch up with the latest Pokerfarm Podcast.
Live From Cannes. Dinner With The Develfish