Our First 6 Figure Month
Aug. 23, 2011
The month started out rather slow for myself last month, I played little poker for the first few days and I struggled for motivation with Call Of Duty and Fifa taking up most of my life.
Also for the last 6 months Adam and I had been playing poker in Costa Rica together, and now with him going back home for a couple of months and Ricardo (also plays in the office) playing at abnormal hours it was pretty boring.
After about 4 days into the month we were maybe even or a couple of thousand down and then all of a sudden we had a decent upswing and were 40k up after 8 days. Without wanting to sound to much like an old man I was running pretty cold and ended up 25k below ev just on ipoker (looking forward to my ev upswing this month). Battling against the ipoker 400 and 600NL regs is extremely fun and high variance, just as an example 2 days ago within 2k hands I went 8k down and finished 2k up. Sometimes the swings can really affect you however and cause you to take a couple of days off here and there. Adam being such a sick degen never really seems to take a day off, but if I only spewed off 1 buy in a month like him I would probably do what he does but unfortunately at the end of each session I look through my hands and say the same old things to myself " I must hate money or that was borderline retarded or I shouldn't be allowed to play this game".
Around the 8th of the month I got a phone call from Mr Zeeman saying pack your bags we need to go to Vegas and play the WSOP main event. Most people would respond oh wow that's amazing let's go and play. I responded by saying that's a joke I can't think of anything worse, please tell James no from me. I decided to speak to James myself and explained to him my thoughts on tournament poker and how the next two months I want to play as much online poker as possible. After him calling me an idiot and telling me it's a free roll I think he understood that for me to take 10 days off online poker is not a free roll at the moment. So Dave, John and Mark decided to get on a plane and play the main event and like 13 days later John busted in 10th place. John did brilliantly and in my personal opinion his mistake wasn't raise calling KQ it was playing so tight the 50 hands before which left him with short stack probably making him feel he has to make this call. John will learn from this and hopefully will get a lot more chances in the coming months and years.
The next 10 days went quite well for the two of us and we found ourselves around 60k (thanks degen) looking at what could be our best month ever. We were regularly on Skype with each other and going over each others hands. I even watched a few videos which these days are almost unheard of for me. Last month every time I sat down I felt like I was playing my A game or as close to it as possible and the next 5 days I definitely got rewarded as I hit around a 40k upswing and we were up a little of 100k. The two of us had actually been talking about winning 100k and it looked like we could better that by a significant amount.
Obviously Poker does not always go as expected and at 3am on a Sunday when I was ready to go to bed a mega fish called AC came and sat with me at 15/30 and demolished me. I mean I had struggled with this guy for the last 3 weeks and it did not stop here. 1st hand he sat with me was my standard 80% vs. him I 3bet KJ off to $350 he calls flop comes k52 1 diamond I lead for 400 he calls and I check shoved the 8 diamonds turn he calls and turns up with a10 diamonds. I having the jack of diamonds unfortunately only takes 2% away from him so he inevitably hit and scooped the 7k pot. The next hand however made me exit the game as I felt like I was going to blow up, AC opened to 5x which was 150 I made it 500 with AA he called, flop came q92 and AC shipped over my cbet with Q5 and won another 20% against me. Most the time im pretty relaxed but being that Adam and I were probably around 50 or 60k below EV for the month I was on a fair bit of tilt. The next day Adam had a pretty bad day and we were now around 85k up for the month and our 100k month was not looking good.
Deciding to only play 400Nl and 600Nl the next 5 days we managed to end with around a 100k month and both of us feel like we are probably playing the best poker of our lives. Personally the thing that I feel has improved my game so much is playing with better players and learning things off some of them, im not saying I go through all the hands I have of the best regs on Holdem manager and copy their game, I basically constantly take new lines that I see some other players take. Also on the other hand if I see mistakes in their hands I tend to exploit they pretty well when playing vs. them.
Recently someone wrote a blog on The Pokerfarm website about table selection, now I am not being rude about it or anyway saying you can not table select, I just want to give my opinion on this matter.
Some People that I have come across recently play only on sites that they can beat or fish when they come online. You guys are basically saying you will never be successful poker players. The best players at any stakes on online poker and the biggest winners are the guys that can crush the other regs at their levels. I agree that sometimes its not nice getting beaten up by guys that you feel are much better than you but the only way to get to these guys ability is by playing them. I am definitely not saying when a fish comes online don't sit at their table of course play, what im saying is don't sit behind your computer and avoid playing if their are no fish online. Anyway that's just my opinion and I am sure people that are looking to try and make a quick buck out of poker will disagree with me.
I am not sure what I will be doing after August as I have thought about playing a bit of live poker and travelling with my girlfriend for 6 weeks. Thinking about possibly going to play EPT Barcelona, EPT London, WSOPE and depending on Mr Bord some live high stakes cash games. What ever happens I will definitely be in London for last two weeks with my girlfriend and really looking forward to seeing my family as its been a long time.
One last thing before I end my essay, The Pokerfarm has recently employed several trainers to help a lot of you guys out their with your games. Please do not sit their and rely on them to improve your games, that just will not work, go out their yourself be self critical and improve your games. Coaches can only help you so much; the rest is down to volume and studying yourself.
GL Guys
What Others Are Saying
3 Comments about Our First 6 Figure Month

Hometown:
London
Country of Origin:
GBR
Lifetime Winnings:$75,000 Career Titles: 1 2011 POY Rank: N/A

100% bonus up to £1250
$5 Bonus released for every 350 WH points earned
Pokerfarm Sponsorship
Up to 50% value back with our sponsorship scheme.See Promotions page for details
$400 New Player freerolls
Recieve 4 tournament tokens for thier weekly $1000 new depositor freerolls.
Exclusive Promo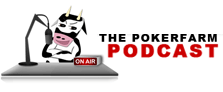 Catch up with the latest Pokerfarm Podcast.
Live From Cannes. Dinner With The Develfish