Brits In Flow
June 8, 2011
It's a good day out for the Barmy Army. Just like in the West Indies for a five day test, the Brits on tour know how to enjoy. And the final table arena in the Rio's Amazon Ballroom is made for the craic. The fact that you can't really see what's going on only makes it more fun. While Americans were raised on constant action, flowing statistics and instant replays to watch the game, for the Brits the only modern convenience required is the cardboard frame with which you can carry six beers in only one hand. Who needs more? Three rows on one side have been staked out early. There sits the Barmy Army when one of their own is in the mix. On the bottom row are the close confidantes, those who are expected to provide the noise. There's Little Dave and James Green from the north, and some twenty-something grinders on their first trip to town. There's the fellow who's dyed his beard green, he'll lead the dancing and nearly get thrown out. There's Sam Grafton and John Eames and all of their boys, starting the chants. There are the big guns at the back, those with bracelets and titles and Miller Lite screwtops in hand, clinking cans and nodding their heads. This is more than British poker. This is a lab, this is a breeding ground, this is a system in which champions are made. This is poker's new Barmy Army and don't let them fool you. Because when you take away the beer, silence all the cheering, and reduce them to the x's and o's one thing remains. They can play.
It's not about the money, and it's not about showing up the Yanks. It's unbridled joy, a love for the game. You work hard, you play hard, and you show up to sweat the final table with a smile on your face. It doesn't matter if you just got busted on the bubble in the room next door, they come to the arena with a beer in hand and sing until their lungs go dry. And it's this spirit of the new British poker that has got Las Vegas talking. It is this spirit that is in dark contrast to the hollow eyes and pained expressions of the zombies walking the halls. It may look like a bunch of boys on the pis, but then you don't really understand. The attitude backs up the play, and the poker backs up the fun. And against this combo, how do the zombies with the straight lipped faces have any chance at all?
I remember back to a day when Daniel Negreanu took sixteen rebuys in the 1000 No Limit. Decadent, heady days of poker, when money was dropped with glee, and registering in three tournaments a day and getting blinded away from one without even saying as much as a hello to your stack was standard fare. Those were the glory days of poker. Dinosaurs roamed the earth and lush vegetation hung low. Brontosauruses with big heads and long tails ruled the steamy marsh. Back then the Brits seemed pale and wispy, thin legged Allosauruses with faces alternating between tomato and bleach, huddled around the hooker bar at three am before staggering off to bed with bloodshot eyes and wondering if the bankroll was better off in a smaller tournament at the Venetian, or a cash game downtown. Waiting for the time when pot limit Omaha would make an appearance on the schedule so they could pile their case money in.
Lol, how times have changed. Matt Perrins walked downstairs a few mornings ago and saw his housemates watching a Youtube video on how to play deuce to seven. I'll have a go, he said. It looks like just playing tournament poker. Jake Cody was the calmest guy in the place while dismantling Gus Hansen before dispatching Yevgeniy Timoshenko, with a game that can only be called a natural. Like Tom Cruise in The Color of Money, you don't know his game. But the Brits do. And even though the Devilfish gets a rousing cheer, "Devilfish give us a wave!" and Channing is revered with open arms, "Shoes off, if you love Neil Channing!" Who is Britain's number one is of no concern. Because every Brit in this group is in the prime of their life. Every single one is in good form. Respect comes when they talk poker, and talk poker is what they do. You can find them in the bright sun on every break, furiously talking hands that don't include bad beats. You can find them comparing notes, retelling lines, and asking opinions from their peers. Don't let the Barmy Army fool you. The beer is only drinking in the poker.
Don't get me wrong, money flows. Money flows throughout. From the two foot bottle of Grey Goose vodka through the bucket of ice, from the Cristal champagne through the hands of the black bodiced server pouring the shots, money flows. From the cage at the Rio to the tournament chips, from the money men to the horses and the books in the black. Money flows.
"Oh ho, look who's showed!" comes a yell from the throng. It's Praz Bansi and Martins Adeniya, on a break from their runs in the room next door. They've come by to show their face. "Get him pissed," Praz says, talking to one and pointing at another. "It's his birthday, innit. Get him pissed till he's puking up!" There's JP Kelly leading a cheer. There's Akenhead and Trickett against the back wall. There's young Jake Cody, who won his bracelet two days before and didn't play today so he could repay the rail.
It was twenty minutes after Cody's bracelet had been won, and the Brits will say they were there. Wine bottles, beer bottles, cardboard frames, plastic beer cups and not a shred of food in sight. It was just ranting, dancing, and Brits going batty. "E-zed, e-zed, e-zed!" The empty risers still rattled. Stagehands dressed in black humming England cheers that they just heard, and Jake Cody in the center of the stage by the tall mountain of chips that signified his win. As unflappable as he'd been as when cameras invaded his house before Day Three, when he stood in his pajamas looking into the bathroom mirror with a placid face, like it was a lazy Sunday for the couch and he said, "I don't get nervous because there's no edge in that," Purity of heart, I believe it's called. Gus Hansen had turned and gave a nod to the crowd on his way off the stage. It was the acknowledgement of a competitor, to the same loud Brits who had taunted him for the last hour and were now cheering him out. I applaud your love of sport. I acknowledge your passion of the fan. It's not malice, there's no ill will, and hopefully this is what turns poker from game into sport. There's a new crop of British poker. And play poker is why they're here.

1001 Views
|
Comments (0)

Hometown:
Copenhagen
Country of Origin:
USA
Lifetime Winnings:$3,948 Career Titles: 0 2011 POY Rank: 0

100% bonus up to £1250
$5 Bonus released for every 350 WH points earned
Pokerfarm Sponsorship
Up to 50% value back with our sponsorship scheme.See Promotions page for details
$400 New Player freerolls
Recieve 4 tournament tokens for thier weekly $1000 new depositor freerolls.
Exclusive Promo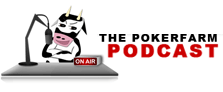 Catch up with the latest Pokerfarm Podcast.
Live From Cannes. Dinner With The Develfish