Feel The Shame
Sept. 26, 2011
It didnt't really bother me when Poker Spot folded, because that guy had history. And I laughed about the money Aces Poker stole, because anyone who trusted them couldn't ever spot a cheat. The Ultimate Bet scandal wasn't really that surprising, as we'd heard stories about him for years. And it never shocked me when they cheated me in Atlantic City, or went partners against me in Vegas, or at Foxwoods tried to do a runner with my funds. The nips, the moves, the cheats, the angle shooters, and those that were just plain thieves. For the past ten years when the stars put on their caps and badges and smiled for the TV, we used to smile to ourselves. And then we'd laugh as we'd tick off the big names in poker and say, "But he's really just a little scumbag, isn't he?" Because they pretty much all were. And that's the way it's always been.
I didn't always think like that, of course, and neither did you. I came into poker just like yourself, wide eyed and dough faced and on the back of a little bit of luck. Full of passion for the game and a romantic view of the poker world and a desire to be accepted by the rambling gambling men who ruled. It's natural when you have a pocketful of money and a bellyful of gamble and all the confidence in the world, it's natural that when it comes to people you can be a little naïve. I certainly was, and so probably were you.
But you get wiser because you have to. My circle got small and my radar got sharp and I could count all the people that I could really trust on maybe one hand. And I told them they could trust me. And pretty much everyone else were scumbags and cheats. In poker, that's the way it's always been. That's the way it's been for me, and that's the way it is for you. And we don't ever talk out of turn. Because in this world if you shit where you eat, then you'll end up hungry. That's what you need to know about poker. That's what you need to know about me.
I've been around long enough so that just one more scam, cheat, or mismanagement of funds, one more of those should be just like more water off another duck's back. But something happened to me when Full Tilt Poker collapsed. This one is different. This has laid me low. It's not just anger I feel, it's not just disdain, and I can't sit here like I always do and smile to myself and point fingers and call them scum. Because what I feel more than anything else right now, is shame.
I am ashamed of you, Howard, and you, Chris, as well. Your actions have made me ashamed. But I'm also ashamed of every one of you that owns Full Tilt Poker stock and has sat in silence. You don't want to give that money back. It's nothing to do with you. You were just someone getting paid. You're sitting in silence and running around and playing in tournaments and talking to your lawyer and feeling sorry for yourself. Shame on you, shame on your silence every last one. But that's not all. Shame on those of you taking money to wear logos now, in the past and in the future, no matter the site. I'm ashamed that your moral code stops at every paycheck, that you ignore and turn your back and sweep under the rug rather than demand an answer. I'm ashamed of your goddamn hypocrisy and your proclamations about morality while your hush money spills out of your goddamn ass. I'm ashamed of those of you who are quick to condemn another rather than ask those tough questions of yourself. I'm ashamed of those of you who are willing to turn a blind eye because it involves your friends. I'm ashamed that not one of you really care about anyone but yourself, because how could poker ever remotely be called a sport when none of you have a shred of respect? And I'm ashamed that a bunch of fat cat dot com millionaires will never ever be able to imagine any perspective other than their own.
Most of all, of course, I'm ashamed of myself. I'm ashamed that I have sat by in silence while you all cheated, stole, and lied. I refused to speak up. I know you, you thieving tournament directors, you scumbag poker players, you dirtbag angle shooters with your names stitched on your shirts. I know you. And I'm ashamed that I've sat here for twenty years and let you rule the poker world as long as I was still getting paid. I'm ashamed that I will demand all day for ethics, honesty, and transparency as long as there is no personal sacrifice involved. I'm ashamed that I only want to clean things up as long as they don't affect the bottom line. You take your ethics and shove them. You take your integrity and stuff it. Shame on you. You're no better than the rest of them. And I'm no better than you.
In glass houses, don't throw stones. Know thyself. The most naïve thing any one of us could think is that what's left is honest. The most cowardly thing any of us could say right now is don't upset the apple cart. And the most shameful thing any of us could be right now is happy to not demand answers as long as we are still getting paid. The only thing stopping player power is the players themselves. And that is totally shameful. This is only poker like it always has been, nothing new. And maybe that's the most shameful thing of all.
Don't sweat it Chris. I'm not really ashamed of you. I always knew you were just a little scumbag.
7395 Views
|
Comments (27)
What Others Are Saying
27 Comments about Feel The Shame

Hometown:
Copenhagen
Country of Origin:
USA
Lifetime Winnings:$3,948 Career Titles: 0 2011 POY Rank: 0

100% bonus up to £1250
$5 Bonus released for every 350 WH points earned
Pokerfarm Sponsorship
Up to 50% value back with our sponsorship scheme.See Promotions page for details
$400 New Player freerolls
Recieve 4 tournament tokens for thier weekly $1000 new depositor freerolls.
Exclusive Promo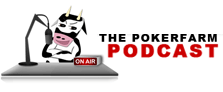 Catch up with the latest Pokerfarm Podcast.
Live From Cannes. Dinner With The Develfish