Pardon Me - Is That My Head?
July 12, 2011
There's a blue haze that runs through Vegas. Sometimes, you make do by living in the blue haze.  You don't struggle nor raise your eyebrows nor take massive applications of pharmaceuticals and medicinals and recuperatives to keep the peace.  Your senses are already dumbed down, they are permanently half lidded and half-mast.  Sometimes, you make do by living in the world so fast that the slot machines spin at one-quarter speed.  You drink doubles in the morning and walk purposefully down long halls.  If it fits in your mouth, you chew or swallow.  You ask what it is later, only to know if others are taking two.  You would be a pig except that nothing expels.  What you are is an outhouse, where it all goes in.  And sometimes, you make do by keeping the balance.  An action has a reaction.  You inhale in the desert and exhale in the car.  You carry your money with you and then bring it back home.  The balance beam looks wide, but the wind always blows.  Don't look down.
Day 1 of the World Series of Poker is for many a time of unbridled joy.  Harrah's has done some things wrong and some things right.  But when the main event starts, it doesn't matter.  They own the Rosetta Stone.  And as long as the main event of the World Series of Poker exists, it provides a semblance of order in the chaos of poker.  It works as a goal.  The greatness of the WSOP is intact.  It's really hard to mess it up.  And unbridled joy on Day 1 was easy to see.  I saw a ghost named John Gale.  He's a guy who went from being a word on everybody's lips to MIA so fast there's still a cold breeze blowing around his shins.  But without any warning, there he was hunkered down in the main event of the World Series of Poker, still living in his own dream.  I saw Roland de Wolfe, calling me over at a table next to the rail.  There's good Roland and there's bad Roland, and there's not a whole heck of a lot in between.  Roland never does less than seven things at once, but often he'll be in a tournament and none of his activities are playing poker.   But there was de Wolfe, and in between calling over the massage girl and stirring his drink and asking me questions and telling me stories and making sure every one of his chips faced exactly the same way and checking four different things on his mobile phone, in between all that Roland de Wolfe was playing poker.  He was watching every hand, he was giving deep stares, Roland was playing poker with the unbridled joy of someone who has a passion for the main event.  He may have missed every WSOP prelim and permanently gone off tournament poker, but the main event of the WSOP is about something else.  And thank god for that.
Not everybody feels like that.  I watch Tom Dwan a lot, but I can't help it.  He is the singularly most interesting phenomenon in the poker world right now.  He's somewhere between a comet trailing fire from the third galaxy of nebula six, and the most low boiled low blooded half lidded astronaut that ever did sixty rotations a minute with a space capsule out of control.  He's either smiling through all seven incarnations of the Chinese water torture trick, or he's jellyfish without and starfish within.  I don't know.  But I do know he's played more events of the WSOP this year than anyone else.  The official records show that he played 52 of the 57 bracelet events this year, and after you throw out the Seniors, the Ladies, and the casino employees events, all that's left is the day he had to go to his cousin's wedding in Ohio.  To put it in perspective, there is no perspective. There is no way to possibly put Tom Dwan's fifty-two tournaments into perspective.  One guy played forty-two events this year, someone else played thirty-eight, and everybody else in the poker world is looking at Tom Dwan like his head is rolling down the aisle of the movie theatre after the aliens have climbed down off the screen.
You might have guessed that Tom Dwan didn't play the main event of the WSOP this year with unbridled joy.  Sometime just after twenty minutes in, Dwan tweeted that he'd lost a third of his stack.  Just before the break, he lost another half of that.  And mere minutes into level two, Tom Dwan was out.  Now it's neither shame nor mistake to get knocked out of any of fifty-six WSOP preliminary tournaments early on.  These things happen.  But the main event is special, it always has been.  It is the weakest field of the year every year, with the smallest blinds and the biggest starting stacks.  And everybody knows that what you do on Day 1 of the main event of the WSOP is nothing at all.  On Day 1 of the main event, any player worth his salt sits there and waits for people to give him chips.  And if that doesn't happen, they bag up a few and come back for Day 2.  Now it doesn't always go as planned.  But while Tom Dwan's WSOP is impossible to put in perspective, his main event is not.  Nobody gets knocked out at the beginning of the second level of the championships of the world.  Not without a scar they don't.
Phil Hellmuth was the story of the WSOP on Day 2A.  And the reason Hellmuth was the story is because this year he had to write the story himself.  It's clear now that nobody in poker over the last ten years had become as complacent as Phil Hellmuth.  There was sponsorship, there was fame, there were eleven girls dressed like Roman togas who were paid thousands of dollars to escort Phil down the hall.  Hellmuth had PR men, stunt men, yes men, and all he had to do was throw a tantrum now and then and watch the cameras came running.  But something happened in 2011.  Nobody was writing the story for Hellmuth any more.  And Phil Hellmuth had to open his closet and dust off his suit.  This year, if Phil Hellmuth wanted any coverage at all, he'd have to write the story himself.
That's exactly what Phil Hellmuth has done this year, and it's some story.  But three runner-up finishes and a virtual lock on Player of the Year weren't enough.  And so going into Day 2A with a short stack verged on critical, Hellmuth did the unthinkable.  He didn't show up.  He didn't show up and he didn't answer his phone and finally Mike Matusow had the security guards at the Aria break into Phil's room to tell him about his stack being blinded away at the WSOP.  And when Phil Hellmuth entered the Rio on Day 2A over ninety minutes late, there was an ESPN camera, a producer, a director, two runners, a freelance photographer, four bloggers and thirty-seven thousand people in the web zone that wanted nothing more than to record the every move of a man with a short stack in a tournament in which four thousand people still remained.   Hellmuth claimed he overslept, he said he got the days mixed up.  I'm saying he's the greatest PR man ever.  Without a doubt he set the whole thing up.  And that's why they should always make Phil Hellmuth write his own script.  Since when did Clancy hire a ghostwriter?
Winning the World Series of Poker while it's held in Las Vegas is a feat bigger than the tournament itself.  The lament of the failure of the big name pros to capture the crown, or even make it to the November Nine, has been explained sixteen ways, now all proved wrong.  And the simple answer is that you're not just dealing with the poker tournament itself.  What you have to deal with here, is the town of Vegas itself.  This tournament lasts nearly a full two weeks.  And these are not twelve days where between innings the trainer is working on your calves while you're lying on a bench.  In many ways, the bigger name you are, the more you have to deal with.  Any friends beyond a count of two are diminishing returns.  The typical WSOP experience, once you start to get deep, is that the time spent at the table is the most relaxing time of all.  The other hours are filled with phone calls, meetings, pressure, backers, sweaters, nippers, begrudgers, hangers on, interviewers, agents, patch placers, and those just looking to hitch their star.  It'll all start on Thursday, on Day 3.  You can check out the faces in the morning, presumably fresh from one or two days off.  But they weren't days off at all, not for many.  And for those still in the main event, pay heed.  If you want to go far, listen up.  Change hotels, turn off your phone, and put a sign on the door.  Get one man to carry your coffee and one to answer the phone.  There is no reason to talk to anybody else.  Best of luck to those who have survived the first culling of the crops.  Gonna make that garden grow.
1017 Views
|
Comments (0)

Hometown:
Copenhagen
Country of Origin:
USA
Lifetime Winnings:$3,948 Career Titles: 0 2011 POY Rank: 0

100% bonus up to £1250
$5 Bonus released for every 350 WH points earned
Pokerfarm Sponsorship
Up to 50% value back with our sponsorship scheme.See Promotions page for details
$400 New Player freerolls
Recieve 4 tournament tokens for thier weekly $1000 new depositor freerolls.
Exclusive Promo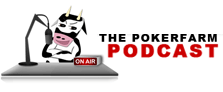 Catch up with the latest Pokerfarm Podcast.
Live From Cannes. Dinner With The Develfish