Poker is going back to the Wolves
June 1, 2011
Come all ye sinners and may the righteous disperse. Poker is being thrown back to the wolves. And it's about damn time.
The World Series of Poker 2011 has started with a full moon fever and if I have it my way, the sun won't come up for seven more weeks. Then we can all look around and just see who's left. Typically at the WSOP, over the course of seven or eight weeks people slowly get stretched and then pushed over the point, and by the fourth or fifth they are dropping like flies, cracked up like a tin of beans on an open flame. That's how it used to be, the WSOP as a great exercise in stamina with a voyeur's payoff towards the end. But if this year's day one is any indication then I'm clapping my hands with glee for the next seven weeks ahead. Because poker has been thrown back to the wolves.
James Akenhead was the first one in town that I saw that I knew. I walked down to the Starbucks at 7am, and Akenhead and Karl Mahrenholz were sitting there exactly like I felt. Up since three am, coffee in hand, jetlagged eye brows, haggard expressions and no place in the world that they would rather be. Like bums waiting for the warmth of a bus station bench. Hard edged in Vegas before the start of the WSOP is, for those two lifers, just the beginning of a recurring dream.
I knew it when I showed up in town and Padraig Parkinson had already been there forty-eight hours without screwing up. He had a big smile on his face and was acting like it was Christmas morning and he was eleven years old. I was transported back to 2002. I knew it when I saw John Duthie pacing the halls in a retro 1987 Johnny Chan black sweatsuit and a Per-Ulrik Johansson style Kangol hat. Duthie gave up smoking only a month before. A confirmed addict of everything that's ever been placed within a twelve foot reach, John Duthie decided to give up smoking and pop on a plane to Vegas for the 25k. While not a recipe for success usually recommended by your therapist, Duthie's really got no choice. You don't answer Simon Cowell's call from the Rio in June. So he coolly dispatched of both Mizzi and Duhamel and cruised into event #2's third round.
Many lifers showed up without patches, and their message was clear. I belong here, they said, you all know I do. Top drawer or case money, I'm a poker player first and last, in 2011 or 2054. One man, however, showed up wearing his patch and squeaking his high voice, and that was not cool. You're supposed to leave your gang colors off at funerals, weddings, and when you're behind on the rent. Anything else is just provocation, especially when there's a satchel under your bed stuffed with sweatshop jeans made by 18-year old indentured grinders that you gave minimum wage. It was no wonder that tempers got raised.
Luke Schwartz was in flying form, and an indication that he's changed. His only quote was, "I've said all that shit already." You can tell in thirty seconds flat that he intends to put action first this summer and let others do the talking, a sentiment wholly backed up by his first round play. Luke built a big chip lead against Nick Schulman, easily one of the toughest draws in the field, only to lose the chips back and fight on like a dog when things turned his opponent's way. He was the most relaxed guy in the room, gracious in defeat, and a quieter belief that if he keeps playing that way there's no way he won't win. Of course he still is a bit Full Flush. Halfway down the hall out of the building Luke suddenly stopped in his tracks. "Damn!" he exploded. "That was like my best event. How much was first prize, anyway?"
I knew it when I looked around the room yesterday at six pm and it was nothing but lifers as far as the eye could see. Just a big group of all those with life sentences in poker and no other prospects and no contemplation that something else might come along if things go bad. Opportunists have come and now they have gone, and greener pastures await those who were looking for the next big thing. A bonfire of patches would be danced around with glee by face painted gnarly veterans who delight in nothing more than a little misery spread around the tree. Because poker has been thrown back to the wolves, and despite the harsh reality that most of us are about to go from first class to stowaway on the ship of life, how can we do anything but laugh with delight as acetone paint peels off our skin. Because when they peel it all away we've got nothing to fear. All that they'll find is a gambler, at the WSOP.
1593 Views
|
Comments (0)

Hometown:
Copenhagen
Country of Origin:
USA
Lifetime Winnings:$3,948 Career Titles: 0 2011 POY Rank: 0

100% bonus up to £1250
$5 Bonus released for every 350 WH points earned
Pokerfarm Sponsorship
Up to 50% value back with our sponsorship scheme.See Promotions page for details
$400 New Player freerolls
Recieve 4 tournament tokens for thier weekly $1000 new depositor freerolls.
Exclusive Promo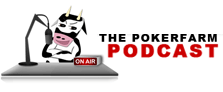 Catch up with the latest Pokerfarm Podcast.
Live From Cannes. Dinner With The Develfish