Pokerfarms 2011 Video Highlights
Dec. 30, 2011, Posted by Pokerfarm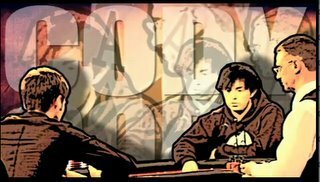 With one day left of the year we thought it would be fitting to recap on some of The Pokerfarms video highlights of 2011.
As we launched the site around Easter our first stop was Dublin for the inaugural Irish open. Never a tame trip we unleashed the mad Scotsman Rury Mason to bring us an essential guide to Dublin, and very little poker.
Next stop for us was The EPT Grand Final in Madrid. Jetting off in style we were privileged enough to fly PJ style with Tom Dwan, James Bord and Peter Jetten as we caught up with Tom to get his expectations for this year's WSOP.
Things got a bit more interesting in Madrid, not because James Bord made a deep run, but because Rury Mason was in top form once again and brought us our very favourite episode of 'What A Pair'. There's "hot" and then there's "hot". Then there's hotter than that, thrown in with some uber-hotness... Then there's Gaelle Garcia Diaz. Word's do not do this woman justice so just peel your eyeballs and try to keep your hands in sight at all times.
If things weren't hot enough after Madrid we had to turn up the notch once more as we descended on Vegas for the 2011 WSOP. Featuring a dream team double act of Rury mason and the Voice of Poker, Jesse May presenting the madness, backed up by a BBC editor our expectations were high. However nothing could prepare us for what happened within the first week of the series. The Pokerfarms very own Jake Cody smashed the record books by becoming the youngest ever Triple crown winner, who achieved this accolade in the shortest period of time to date. Luckily we were there to follow him every step of the way and produce this gem of a video.
Taking a break from all the poker being played during the WSOP The Pokerfarm were keen to know who had the best shot in the camp so we took a couple of the boys to the shooting range to find out. Liv Boeree fancied her aim as well so she joined us along with Kevin Macphee.
Much of the hype during the series was the ongoing news and debate surrouning the FTP debacle and post Black Friday. One notable who vowed to overlook the series ( and probably a very wise move) due to the fiasco was offcourse pokers biggest name, Phil Ivey himself. With people desperate to know of his whereabouts and rumours surfacing every day The Pokerfarm's Private Investigator Chuck Ptowski cases Las Vegas in search of poker's most notorious missing person. Would he be spotted at this year's WSOP, Could we track him down? Watch our film noir epic 'Finding Phil Ivey' to find out.
With pokers hottest property and golden boy of the year Sam Trickett having a relatively quiet series we had to find a way to keep The Pokerfarm gang amused. So Sam, James Bord and Jungleman decided to come up with a way to do just that. Chris Sly was the 'laughing cow' placed in the middle of it all for what turned out to be a classic prop bet.
With no more bracelets to count we had one epic sweat in the main event with The Pokerfarms very own John Hewitt flying the flag all the way into the last day and looking to take a healthy stack with him through to the final table for the November nine. A brutal hand saw him lose a big pot on the river and from there on things didnt go to plan as we all witnessed him enduring the pain of being the November nine bubble boy, busting the main event in tenth place. Nevertheless, everyone at The Pokerfarm HQ was tremendously proud of John and we know he will go on to achieve some big things in the future.
Our last video 'project' to note was our debut performance in the 'live streaming' market. With The WPT and EPT Prague set for record numbers The Pokerfarm decided to host a live stream cash game featuring some of pokers biggest names. Here we have picked out one of the many interesting hands that played out.
Everyone at The Pokerfarm would like to wish you all a very happy new year. We are bubbling with excitement and anticipation for 2012 and with the recent revelations from the DOJ in regards to the legislation of poker in the US we hope to be able to bring everyone some more positive news from the poker industry next year. This year we all took a hit, but 2012 is gearing up to step back in the right direction and pave the way for another poker gold rush. We will keep our fingers crossed and hope the poker gods deliver some 'run good' for 2012.