News Update: April 30th, 2012
April 30, 2012, Posted by Daniel.Smyth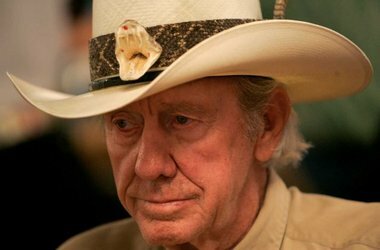 In today's news update we mourn the death of Amarillo Slim, see why 2+2 has closed its virtual doors and get the latest news from WPT Jacksonville. All that, plus one of the most epic poker clips of all time.
Amarillo Slim Passes Away
One of the poker world's most entertaining characters passed away yesterday after a battle with cancer and heart problems.
Amarillo Slim was known throughout the gambling world as the man who could win at anything. Indeed, over the years his prop betting antics became the stuff of legends.
From out shooting famous pool player Minnesota Fats with a broomstick, to beating a champion table tennis player with a frying pan, Slim was the best hustler in the business.
Following the 83 year olds death, a wave of goodwill messages poured out across Twitter. Indeed, although Slim's personal life may have caused a wave of indifferent feelings towards him, he remains one of the game's most enthralling personalities.
Doyle Brunson: ": Feeling blue after Slim's passing, even though I was expecting it. Sickening to read what some folks are saying about him. #theyjustdontknow"
2+2 Hacked
Popular poker forum 2+2 was left in turmoil at the end of last week after a hacker managed to gain access to the site's internal system.
The cyber criminal managed to bypass 2+2's security blocks and uncover usernames, emails, password salts and hashed passwords.
Piecing all this information together would mean that the culprit could find out the plain text passwords for everyone on the site.
The upshot of this is that if you use the same details for other online accounts you could be at risk.
Noah "NoahSD" Davidowitz has posted a blog explaining the incident in more depth. He has also outlined various methods to ensure your personal data stays safe.
As it stands 2+2 is still offline and operations aren't expected to return to normal for a few more days.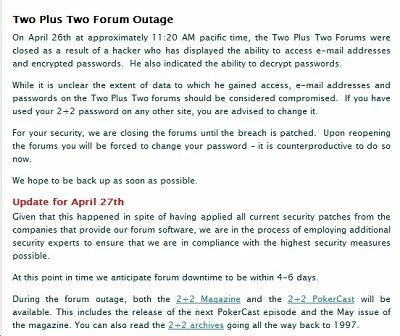 WPT Jacksonville
WPT's latest stop in Jacksonville is currently in full swing. The $5,000 event attracted 320 players which created a healthy prizepool of just over $1.5 million.
At the end of Day 2 the field had trimmed itself down to just 55 players.
Day 3 is set to commence later today with 36 players receiving some return on their investment. Currently still in the hunt for the $400,600 first place prize is James Dempsey.
The Brit has already won a WPT event this season and seems to be running hot in Florida. Indeed, not only did he score a number of eliminations on Day 2, but he also managed to win some money from WPT hosts Mike Sexton and Vince van Patten at the neighbouring dog track.
To catch up on all the latest action, visit WPT's website.
Side Action
Sometimes in life there are moments where you wish you hadn't opened your mouth. Howard Lederer has probably been thinking that recently after an old video of him discussing business ethics hit the airwaves.