My World Series Summer
July 8, 2011
So it's been a pretty tough series for me this year. If I had to rate my performance I reckon about a 3 out of 10 would suffice. Before the series started I thought I was playing well – I'd been running bad but hoped that my luck would turn for Vegas. Annoyingly I just found myself in spot after spot where there wasn't really much you can do. People just kept having hands against me.
If I'm being totally truthful, towards the end of the series I think my game deteriorated a bit, but I'm reasonably happy with the decisions I made at the time. Having my fellow mates and Pokerfarm players out here has meant that every tricky decision I've had I can share with them. I've talked to Sam Trickett and Martins Adeniya a lot about hands – On the whole we tend to agree that we'd have taken a similar line, so as long as I'm not making mistakes, that's all I can do and keep plugging away.
The great thing about being out here is that I'm with the people that I love in a city that I love. My best mates, the girls, the partying – It's an amazing place to be, and let's face it, you've got to get lucky to win tournaments, so I'm definitely going to have a good time while I'm out here and do some pretty serious partying. Highlights of the trip so far have to include one of my best mates Harry coming over. He doesn't play poker so we did just partied all over town which was great. It got so messy one night that I was found sleeping on the pavement outside the Aria! Not one of my finest moments but I blame it on Vegas.
It's been a bit different this year staying in a house with all the guys. James has been really generous and we've had our own personal chef who just makes incredible food. I can't go without my eggs in the morning – Her breakfasts are amazing and the one meal I tend to always have. We've done a lot of eating in because of this, so not so much fine dining out in town.
It was an amazing start to the series for the Pokerfarm but things tailed off slightly afterwards. Some of us have had a rough time and since Jarred's 2nd place there hasn't been too much to shout about. Jarred has really impressed me – The guy plays amazingly well, having made 2 finals last summer and then coming 2nd in a $10k this year, but he needs to work on his confidence – If he believed in himself a bit more and worked on his postflop game I truly think he could be one of the best tournament players, period.
The tournaments have been really well run out here as you'd expect but I think that Harrah's could definitely shake the schedule up a bit. There should be more 6 max events for sure, and I think a limit holdem HU championship would be pretty cool. One thing that's really wound me up is the 'no talking about hand' rule; Sam was given a penalty the other day for asking his opponent about a hand in an allin pot. They banned players from talking about hands having looked at Jamie Gold's WSOP win, but I think it's part of the game and a load of nonsense to start giving out penalties.
As for me, I'm sitting here with one event to go. Fortunately it's the best event, the main event. It's always tricky to know which day to pick; last year we all wanted to play on the Sunday knowing that the real sharks, the online tournament grinders would be playing their schedule. I think I'm going to play Friday or Saturday this year but you never know how tough a table draw you get so you have to be a bit lucky in that respect. Hopefully I can run and play better and do something in the main this year.
After the WSOP I think I may go to Macau – this is where the big action is, and after a tough series I think booking some wins would do me some good! After that, probably back to the UK for a few weeks and then a wedding in Israel, so I've got a lot to look forward to. All in all it's been a great summer – Although the poker hasn't gone how I'd liked, I've still got a chance in the big one and I'm incredibly lucky to be doing what I do for a living, you can never forget that.
What Others Are Saying
1 Comment about My World Series Summer

100% bonus up to £1250
$5 Bonus released for every 350 WH points earned
Pokerfarm Sponsorship
Up to 50% value back with our sponsorship scheme.See Promotions page for details
$400 New Player freerolls
Recieve 4 tournament tokens for thier weekly $1000 new depositor freerolls.
Exclusive Promo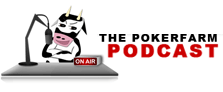 Catch up with the latest Pokerfarm Podcast.
Live From Cannes. Dinner With The Develfish