You've got to be strong if you want to survive
June 16, 2011
While I sit here tapping away at my keyboard staring out at grey drizzly skies, its hard not to daydream that I'm at the World Series; I dream of the deafening sound of chips, snapping together like an army of crickets. I dream of the heat, smacking me in the face like an industrial hairdryer. I dream of the bright neon lights, the endless days which merge into one, the incessant gambling and wild nights of excess. The truth is, I had my chance a few years back, but that was then and this is now.
Since the start of this year's WSOP I've been reporting on the Pokerfarm team who have been winning bracelets for fun. My day consists of religiously following the updates on Pokernews, scouring chip counts and eagerly anticipating the latest gossip from the felt. This only makes my appetite stronger to be there, fighting for bracelets and living the dream, but I often have to remind myself quite how tough it is to survive in the poker world.
I remember the excitement rushing through my veins the first time I got to Vegas. I was awestruck by the enormity of everything; the hotels, the restaurants, the people. Poker was the common language and money was no object. I wanted a piece of this pie and I wanted it there and then. What a way to make a living I thought – Huge money at stake, flexible hours, the opportunity to travel and most importantly of all, freedom. I've been immersed in the poker world ever since, as a player, writer and railbird but God I wish I knew back then what I know now.
Poker is a world unlike any other. Chris Moneymaker's heralded 2003 WSOP championship was the catalyst to get millions of players hooked online, many of whom believed that they could be that guy, the guy who rode his lottery ticket all the way to the final table of the WSOP main event, the guy swathed in publicity and riches. The guy who was living the dream. Fortunes were won and lost on the cyber felt, and hundreds of millionaires were bred seemingly overnight. Spotty college students were idolised for clicking buttons and poker became a truly global commodity. What's more, for every pimpled millionaire there were fifty like-minded wannabes, frittering away their educations and savings in the hope that they could be that guy, that their luck would turn and that they would someday be scaling the lofty heights of highstakes towers.
The online boom created jobs. It created prosperity and gave people the freedom to be their own bosses. In the early days it was easy. Casual punters logged on and pumped their disposable income into the poker economy. There were no HUDs or training sites. Sharkscope was used by surfers and Table Ratings was a restaurant guide. Over the next 5 years, poker evolved and boy did it get tough. The UIGEA and the advent of training tools quickly separated the men from the boys, and only the best of the best survived.
Nowadays we're immersed in a poker depression. The events surrounding Black Friday have decimated online poker as we know it. Hundreds of thousands of Americans are out of pocket, livelihoods have been obliterated and there is a dark cloud of pessimism lurking over the future of online poker. Who knows what will happen going forward and whether legislation in the US will bring a second poker revolution.
The future may be undecided for online poker, but the congregation at this year's WSOP has stuck two fingers up to the suits in Washington. Poker players have flocked to Vegas in their masses; cash games are bigger than ever, tournament numbers are slightly up from last year, and the majority are there to do what they love and do best. Jesse May so beautifully surmised the mindset of a modern day poker player in his recent blog, 'I belong here, they said, you all know I do. Top drawer or case money, I'm a poker player first and last, in 2011 or 2054'.
The poker world is inhabited by survivors, or lifers as Jesse calls them. Online poker created a whole new generation of players, some of whom have been and gone. But let's not forget the generation before the shiny new internet games appeared; we're talking about a breed of poker player born through seedy back room card games and marked decks. A breed of card sharp who had to travel just to get a game and watch his own back. The likes of Doyle Brunson and Amarillio Slim had it really tough. They're the true survivors of the game. Hobbling into the Rio, year after year, they epitomise the resilient psyche of the poker player. They're just here to play, whatever the circumstance.
Survival is a trait not uncommon to most poker players. Handling the swings and being able to cope psychologically is critical to our continued existence as poker players. One man who has been gathering publicity lately is Jean-Robert Bellande. JRB is one of poker's great journeymen. Always candid about his finances, he darts from one game to another, from the dizzy heights of the high stakes games at the Commerce to grinding out $1/2 PLO at the Hard Rock. '' as he is famously known on Twitter has shared his angst with the world. His badbeats are heartbreaking but his attitude unphased. He's been broke more times than he's had hot dinners but like so many, he is just around the corner, with the bright light in his sight. Funnily enough JRB is in a great position going into day 2 of the $2500 6 max as we speak. Whatever the result, you can be sure that JRB will be back with renewed optimism, and we'll be following him here at The Pokerfarm.
Poker has taken a battering this year, but don't worry, it isn't going anywhere. While it may take a while for legislation to happen, US players will have to find alternative places and ways to play. Like many before them they'll have to just survive. For the rest of us, online games will dry up a little and prizepools will shrink, but this is only temporary; the desire to play poker burns just as fiercely as it ever did and this year's WSOP is testament to that fact.  Poker is alive and well. In the meantime, I'll get back to dreaming about bracelets…
What Others Are Saying
2 Comments about You've got to be strong if you want to survive

100% bonus up to £1250
$5 Bonus released for every 350 WH points earned
Pokerfarm Sponsorship
Up to 50% value back with our sponsorship scheme.See Promotions page for details
$400 New Player freerolls
Recieve 4 tournament tokens for thier weekly $1000 new depositor freerolls.
Exclusive Promo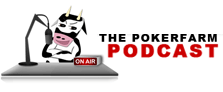 Catch up with the latest Pokerfarm Podcast.
Live From Cannes. Dinner With The Develfish