Treating Poker like a Business
Sept. 21, 2011
Over the years, I have found that successfully managing poker is almost like managing a business. There is always the grind for progress, growth and self actualisation. There is also the manner in which you conduct your business activities that can ultimately provide success or mean busto. My main observations and experiences here are to do with work scheduling and finding the perfect balance between work and life.
Business theory dictates that a business is only as good as the people running it. I have recently been able to find a reasonable balance between running my business, spending time with my g/f, family and friends, and playing poker. I have realised that this was not always the case and that my sharpness and poker acumen probably suffered because of it. Everyone has played looong sessions right and made many mistakes nearing the end?
Well I am tuning in more to the mindset and approaches to grinding poker in the long run in order to be successful. As in business, you manage your lifestyle so that work comes before play and you are on top of your game while you are conducting business. Can the same be said when playing poker? Well when grinding out the degenerate periods of 20k hands straight, you are obviously not always going to be at the top of your game. ROI would suffer, but if you have an edge it may still be highly profitable. The longevity of this approach is dangerous and only when you can take time out to enjoy yourself, is this both profitable and sustainable. Being stuck behind a desk for days on end managing a business, or being glued to your laptop and constantly multi-tabling, has many similarities...
Approaching poker like a business can add a lot of value to your progress and success. Scheduling your poker time against other commitments, taking regular breaks and engaging with the outside world, are all things we hear regularly from successful grinders. But boy it can be tough to execute when you're on a heater!
The moral of this story – the more I treat poker as my second business, the better my results have been. Use a professional approach in your game selection, if you are losing then quit for the day, if you don't feel great don't play, if you are emotionally unstable then take a break. All can be said for business, and there are not many businesses out there that successfully operate outside of their peak conditions. Thinking smart will translate into playing smart. And that has always got to be the best approach.
How do you manage your poker activities? Do you have any unique approaches?
What Others Are Saying
5 Comments about Treating Poker like a Business

100% bonus up to £1250
$5 Bonus released for every 350 WH points earned
Pokerfarm Sponsorship
Up to 50% value back with our sponsorship scheme.See Promotions page for details
$400 New Player freerolls
Recieve 4 tournament tokens for thier weekly $1000 new depositor freerolls.
Exclusive Promo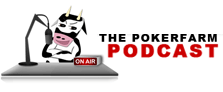 Catch up with the latest Pokerfarm Podcast.
Live From Cannes. Dinner With The Develfish