My First Month With The Farm
May 9, 2011
First of all I'd like to thank The Poker Farm for taking me on board, I had to use stats from the prehistoric days to convince them to take a chance with me. I've had an adventurous last 3 years and hardly played any poker at all, I might go into it all at a later date BUT I don't want it to read like a 'car crash' like my last blog.....
Up until February I hadn't even thought about poker for 6 months, I'm lucky to live in one of the most beautiful parts of the country (The Lake District) Last year I decided to get back to some form of normality and spent the whole summer playing golf, cycling and walking, basically a million miles away from poker.
With a view like this on my doorstep the last thing on my mind was poker, but sooner or later the money eventually runs out and you have to get back to the grind!
I agreed with The Farm to start off playing $30 & $50 husng's for the first month, I don't think it's my strongest game but I feel I can turn my hand to most forms of poker.
The first month has gone pretty smoothly with only 1 bad tilting session, I haven't played much due to the sudden death of a friend (RIP Mate) I thought it was wise to take 2 weeks off in order to sort my head out.

I hope you all have a fantastic May on and off the tables
Bangtidy69

100% bonus up to £1250
$5 Bonus released for every 350 WH points earned
Pokerfarm Sponsorship
Up to 50% value back with our sponsorship scheme.See Promotions page for details
$400 New Player freerolls
Recieve 4 tournament tokens for thier weekly $1000 new depositor freerolls.
Exclusive Promo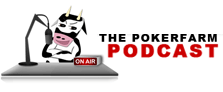 Catch up with the latest Pokerfarm Podcast.
Live From Cannes. Dinner With The Develfish