THE PASSING OF ARISTON
May 9, 2011
Well a few of you who have been round for a few years may remember this noisy bastard called Ariston. Best known for winning satellites to all the biggest events in the world getting big stacks early on then pissing away the chips or blowing up because of hangovers or lack of sleep because of his main favourite pastime....... women. Well I was that man but that's all in my past now. I used to get paid buckets to write articles and found winning enough money to have a very nice lifestyle without having to do much work very easy. Then something nasty happened- online training sites, videos, so much poker on TV there wasn't enough time to watch it all, HEM  and this meant the standard of play improved. Sit n Go's became a pretty cracked game, 6max nlhe wasn't free money anymore and all of a sudden you had to graft your bollocks off to make a living. Suddenly I like many players wished the 100k a year it was easy to win and spend had been used a little more wisely than Spearmint Rhino or Brass. It still is very easy to win sats to the big events but you cant easily with the 10 or 20 grand walking round money you need for entertainment while you are spending a few weeks in Vegas or Australia or wherever so what's the point. The last Live event I played was around 2 and a half years ago and was a £500 quid affair at Luton which I chopped for 10 bags- least I retired from the live scene on a high (although I think I spent around half of that on the night out after that win so the money didn't actually go very far).
I had some amazing experiences travelling the world for 5 or 6 years and so many tales I could write a book. I still get told now  "don't go off the strip" after the armed robbery off strip in Vegas 6 years ago or so. I still get quizzed on how an ugly bastard like me could have success with the ladies but Im afraid you cant learn what I have guys you have it or you don't ;) I played the TV table as one of the chip leaders with Joe Hachem for all of day 2 at the Aussie Millions while he was the reigning champ then played a pot for the chip lead with 56 left ( 53 get paid) getting my money allin as a 95% fav, 4 hours later I was at the airport sulkingly getting on a flight and leaving the crown 5 days early in a hissing fit.
Move forward to the present day. In the last couple of years since retiring from the live game I have worked in a training camp in eastern Europe training a hundred or so players to grind online as rakewhores. I then took a challenge last year on pokerstars and played over 2 million hands in 4 months aiming for SNE for a nice wage. By Christmas I was burned out and so pissed off with holdem I wanted to quit the game completely. I had a HEM database with around 25 million hands in it in total and could see the "correct" or "perfect" way to play the game but even if you stuck to that at the ½ or 2/4 type level you weren't gonna get rich quickly and I was bored of the grind.
I had the good fortune to meet my next ex wife last year though and decided to make some changes in my life. I've never been the one to take the traditional route and my midlife crisis seems to be to settle down. I'm 40 in a few months and have realised my amateur pornstar/ part time manwhore days are over so Ive found the best woman in the world and given up looking. I have auditioned so many women over the years for the role sometimes auditioning many at the same time to save time. This has led to me making the biggest change in my life- Ive actually gone back to work!!!!! After over 20 years of not existing in the eyes of the TAX authorities I am suddenly back paying them £700 a month out of my wages- wtf is that all about??? I don't get anything for it they just rob me blind. Still its nice to have a chunk going into my bank every month and it has made me start looking forward to playing again. I now only play an hour or two each evening and a few hours at weekends meaning I don't rake like I used to but I can concentrate more and hopefully put in better results. Of course I still run shite at times like every player but now I am not under the pressure of having to make a few thousand every month so the bills get paid I can leave my poker money separate and let it pay for a nice holiday later in the year. This just means I don't need to look at the periods of time I am running way below EV with desperation like I used to- its a long game and at the end of the day if you keep doing the write things it will turn and everything will be fine in the long run. I joined the farm a few months ago as they are a forward thinking company who intend growing the staking side of things and they have some nice ideas on mentoring/training etc and I hope to maybe help them with some stuff over the months apart from being just a player..... who knows depending on their plans for the wsop this year I may just have to win me a seat and nip out there for a week or two in the summer.
Not sure where this blog will go month by month- some months it may be about hand histories n stuff but I find those sort of blogs can get quite boring. Some months it may be about past exploits and some months who knows it may be about the latest TV/Movie star I wouldn't mind have a fiddle with (Its ok with Jules if its famous women I chat about as she's allowed her Orlando Bloom/ Johnny Depp etc as well).... on a finishing note has anyone seen Black Swan??? Absolute garbage film but Mila Kunis and Natalie Portman visiting the island of Lesbos......mmmmmmmmmmmmmm
ARISTON is dead- call me russ

100% bonus up to £1250
$5 Bonus released for every 350 WH points earned
Pokerfarm Sponsorship
Up to 50% value back with our sponsorship scheme.See Promotions page for details
$400 New Player freerolls
Recieve 4 tournament tokens for thier weekly $1000 new depositor freerolls.
Exclusive Promo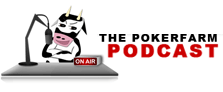 Catch up with the latest Pokerfarm Podcast.
Live From Cannes. Dinner With The Develfish