I'm The Fish
Feb. 8, 2011
If you can't spot the fish at the table, it's probably you. This has never really been applicable to me, until now. Having been involved in a live 10/20 game on and off for the last 3 weeks I've come to the conclusion that I'm the value. The reality of the situation came to me when I went to leave the game after another -$4k session and the whole table collectively groaned, what a joke! I'm now holed in the game for somewhere between 16-18k and am beginning to think that I'm a really terrible live player.  I've got the worst image, these 60 something old guys seem to be able to read my soul, pick off my bluffs and fold vs my value hands, it's really scary. Don't get me wrong, I don't think these guys are great poker players but they are exceptionally good in the format they have played for the last 30 years and seem to own me off in some spots.
It's still a great experience and can hopefully give me another string to my bow as a poker player. I want to be as prepared as possible for the WSOP this summer and although I don't particularly love live poker I see it as part of my job as something I have to do to progress to the next level. So it's back to the club tonight I imagine (if el and zee don't cut me off) to grind out of my ever swelling hole, may also play a few of the comps they are running this week, $300/500/1500fo etc but we will see in regards to that.
Online I can't really complain, booked a $15k win last month and am up about $7k this month, I'm looking to have some shots at 400nl in the coming weeks with a view to be playing 5/10 by the end of the year. My end target for poker has always been to become a respected 5/10 reg. Too many of the players that I've either coached or been friends with are looking for that big overnight score that will transform them into this superstar. I think I would take a lot more pleasure out of working my ass off to get up to a level that most can only dream of and think I didn't need one bit of luck to get here.
Weight loss bet is going well, although not being quite as disciplined as the earlier weeks. Think I've lost just over 10 pounds and I've heard crucksies been laying into the maccy d's back in Cape Town so feeling pretty good about the whole thing.
What Others Are Saying
2 Comments about I'm The Fish

100% bonus up to £1250
$5 Bonus released for every 350 WH points earned
Pokerfarm Sponsorship
Up to 50% value back with our sponsorship scheme.See Promotions page for details
$400 New Player freerolls
Recieve 4 tournament tokens for thier weekly $1000 new depositor freerolls.
Exclusive Promo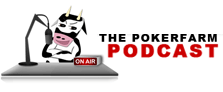 Catch up with the latest Pokerfarm Podcast.
Live From Cannes. Dinner With The Develfish