Update: October
Oct. 25, 2011

Apologies for lack of update, been a little lazy lately. Look at what can happen in such a short period of time! The online poker world appears to be a landscape undergoing some serious change right now, more about that in a moment.
Poker for me is going ok, moved back to micro gaming under instruction from David and Azza, seems like a good idea to go back to the old stomping ground after the highstakes merge EV debacle and the fact we were having some issues with Willhill $. Games are actually good, but liquidity is very low owing to anonymous tables. it's a different kettle of fish to playing on other sites, regs are much better I think but the fish are absolute stunners/don't leave when they get up a lot. It's a bit of a bum hunt festival, im not the greatest hu guy in the world but only a few regs will start tables, which makes getting more than 4 tables running @ 400/600 tough. Iv been playing much better lately, the site means you don't get the opportunity to "cost" a volatile style differently (as you would on ipoker for instance) so it becomes a game of killing fish and minimal mistakes. Been happy with results and game for the last 100k hands which is nice, although I cant wait to get back to highstakes and the blood pumping again.
Other saddening news in the botting issue finally coming to the surface. For a few years now bots have been improving, now they are at the stage where they are deployed in midstakes lineups, 400-2knl on all the major sites. Pokerstars appears to be one of the only site taking effective and immediate preventative measures (so much so that on the botting forum pokerai.org stars is given a warning for prospective botters). The other sites, ipoker and ongame especially and even my beloved micro gaming have all been found to inhabit bots (and this is just the bot whose characteristics are well-known). I am genuinely concerned that this could be the end of online cash games, because without legislation and effective deterrents how can you stop a botting ring? Any sort of human input is easy to overcome by employing someone and the intelligence these guys have in designing winning bots means I am sure they will overcome any weak security measure with ease. The threat of huge fines and being shacked up with some homicidal homosexual fruit loop for a few years is the way to prevent crims crimming.
For more information these threads on 2p2 give more insight.
http://forumserver.twoplustwo.com/29/news-views-gossip/action-vs-poker-bots-networks-should-work-together-combat-them-please-email-sites-1116939/
http://forumserver.twoplustwo.com/56/medium-stakes-pl-nl/possible-collusion-softplaying-botting-1knl-ipoker-766070/
http://forumserver.twoplustwo.com/56/medium-stakes-pl-nl/possible-collusion-softplaying-botting-1knl-ipoker-766070/
The real issue I have is that these bots won at least $500k in reported earnings from ongame last year and another $1.5-$2 million in known earnings on ipoker over the last 2 years, but that figure could be (and likely is) much, much higher as this just reflects the bots whose statistics we know about. The bots are very good at beating up weak regs and fish. Taking so much money out of the poker economy is a worry for the longevity of online poker and a knock-on effect will be reduced value in mid-high end live poker tournaments. Online mtt's appear unaffected at present, but as bots become more advance no game is unsafe (we cant all just go play plo because the decision tree is actually shorter/game is more equity based- a bot wont make the tiny mistakes a human will).
In other news, we could all go play live. I went to Coventry with my new backer (only to be approached after a winning session- luckily his last loser was in 2007) to play some live lolaments. The room was the highlight, a converted hospitality suite in the ricoh arena equipped with a sliding door that took you straight out to the terrace, surreal. Sadly despite paul jacksons best efforts in the hilarious smallstakes cash games we got bored after 2 days and came home. The casino itself is actually (going out on a limb here) the nicest iv been to in the uk, including the London 5* jobs, which are a bit too pokey for me. The style is reminiscent of vegas slightly. Well done to thewy for a solid win (3 gups is no mean feat) and unlucky to a long-time poker mate of mine, trigg for coming 2nd. Commiserations to Mr Cody and Mr Moorman for their solid performances in the wsope, the eventual winner binking 5 underpair v overpair scenarios from the last 4 tables runin. WAL.
In other live news, this blog is a real good read/insight into some highstakes action from the city where all the big stuff takes off, LV. Personally I think Dave's poker theory is really top-notch and its worth a read. http://lildaveslife.blogspot.com/2011/10/on-rides.html
What Others Are Saying
4 Comments about Update: October

100% bonus up to £1250
$5 Bonus released for every 350 WH points earned
Pokerfarm Sponsorship
Up to 50% value back with our sponsorship scheme.See Promotions page for details
$400 New Player freerolls
Recieve 4 tournament tokens for thier weekly $1000 new depositor freerolls.
Exclusive Promo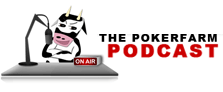 Catch up with the latest Pokerfarm Podcast.
Live From Cannes. Dinner With The Develfish