The Poker Playing Student
June 3, 2011

It was Boozeday Tuesday. An excusably named title for the second day of the week to give the students at St. Andrews University another reason to go out drinking. A lot of people don't have class on Wednesday, so many prefer to dig deeper into the student loan and purchase copious amounts of alcohol in the pursuit of a good time..

I however chose to stay in my dorm room by myself, sat in front of my laptop staring intensely at the screen and repeatedly clicking the mouse. I was staying in to play poker.

Universities are a breeding ground for young poker players, with a mix of intellectual minds combined with the too often empty pockets of the average student. With just a deck of cards and some chips, the game is very accessible and can be found across campus from the kitchen table and common rooms to the University affiliated society. Many a story from a seasoned pro will tell of how they picked up the game from friends at school and college and that was the start of a beautiful career.. Nowadays with increased technology, almost every student will have a laptop, every dorm room has hi-speed Internet and wireless is available right across campus. Internet poker has never been so accessible for the student generation. Not to mention that you've just been let of the leash from mum and dad and don't even need to ask permission.

It's another reason why the so called 'new generation' is learning younger. With so many different poker sites, forums, training resources out there, there is a wealth of information for the young, intelligent minds to divulge. One $50 deposit and a bit of hard graft later, the poker playing student has found an innovative new way to make money.

I started with a free $50 capital on PartyPoker grinding cash games, building up the number of tables as I gained confidence. My Tuesday night session ran slightly above EV, and I was up almost $100. Most students will often spend anything up to £50 in one night. One drink leads to another. You buy some drinks for the semi-attractive girls in the club. Kebab followed by taxi. It's an expensive night out. Every student knows that feeling when you go to check you wallet in the morning to see what happened the night before. I would rather take my chances on the virtual felt rather than the student nightclub.

Many of my hungover friends are in awe the next morning that I made nearly $100 just sitting in my room while having dinner and watching BBC iPlayer. Then come the usual comments of 'can you double my money?' and 'can you teach me how to play?' follow. I politely decline after commenting that it wasn't my best night by far.

I much prefer grinding poker than a part-time minimum-wage bar job. Obviously I'm not going to have a winning session every time I sit down at the tables, but I enjoy it a lot more, and I can 'promote' myself through careful bankroll management to earn a better wage. I definitely treat poker as more of a job than a hobby, due to the fact that I put a lot of time and hard effort in to poker in order to make money. My actual hobbies are golf and Arsenal FC.

There is a niche community developed at our University where we have a poker club with about 150 members. About 20 of these are serious players and maybe half of these play on-line regularly, discuss hands with each other and have friendly cash games where many levelling wars take place. We hold a £100 during Freshers week to entice as many new members as possible.

So when my friends usually ask me if they want to come out on Booze-day Tuesday, I reply,"no thanks, but I'll buy you a drink at the weekend!" And I'll have plenty of spare change left over.

100% bonus up to £1250
$5 Bonus released for every 350 WH points earned
Pokerfarm Sponsorship
Up to 50% value back with our sponsorship scheme.See Promotions page for details
$400 New Player freerolls
Recieve 4 tournament tokens for thier weekly $1000 new depositor freerolls.
Exclusive Promo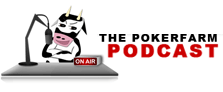 Catch up with the latest Pokerfarm Podcast.
Live From Cannes. Dinner With The Develfish