Monthly Swings
Dec. 3, 2010
So the month was super swingy as always. I'm running pretty good at the moment which is something I'm not normally accustomed to! I was down $1.2k, then up $300, then down $500 and now up $1.2k with the help of a few solid 100nl wins and a 50% investment in a 4th place in a $200k guaranteed.

I still can't seem to put in consistent wins at 100nl and find myself grinding back losses at 50nl. It's a confidence booster to be able to crush 50nl but at the same time a reminder that I need to manage my time better and put more effort in to studying.

I finished 'Moneytrain to Midstakesville' earlier this month which I found pleasant to watch but it didn't really open my eyes to to where I'm spewing most of my money. I'm busy downloading 'Yin and Yang' with inavacuum and 'Ghost Ship: The Cracked Pearl' with Jk3a, NoahSD and BalugaWhale. Both seem like they have potential, anyone checked them out?

I've taken over a new team here at the Farm and I'm slowly getting to know all the guys and their games but it's just meant that I have had to take more attention away from my game which sucks and has pushed back my goals of crushing 100nl by the end of the year.

Jammed pretty hard at Synergy this weekend which was epic, good music, lots of sun and a car full of beer. Can't go too wrong. I'm pretty tired this week but it's a culmination of a loooong year of poker so I'm pretty excited for a two week holiday up the coast next month, I think my mind will benefit from the break.

I'll try post some hands later today,

later.

100% bonus up to £1250
$5 Bonus released for every 350 WH points earned
Pokerfarm Sponsorship
Up to 50% value back with our sponsorship scheme.See Promotions page for details
$400 New Player freerolls
Recieve 4 tournament tokens for thier weekly $1000 new depositor freerolls.
Exclusive Promo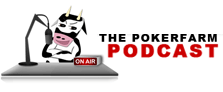 Catch up with the latest Pokerfarm Podcast.
Live From Cannes. Dinner With The Develfish