April Swings
May 5, 2011

The first few days of April were OK I won $500 at 25 50 PLO relatively easily but the rest of the month wasn't so simple.
Around the 30,000 hand mark I had a horrible down swing I was still playing six two eight tables of 50 PLO
Within the space of a few days I went from +$650 to -$2300 which is a hell of alot to loose at 50PLO,My Ev was still well in the green so I wasnt too tilted but I had 6 days to make it back before the end of the month, which I thought was near impossible, I needed to average + $383 for the next 6 days...
there was a shortage of 50plo tables towards the end of the month which didnt help my case,but there seemed to be alot more 100 plo games, I had no choice but to play a few tables of them.
I Bought in for 50bbs on all games and managed to get some decent seats on super agro tables,
I ended up limp raising and check raising alot of strong hands and the big stacks played incorrectly Vs my stack size, they would commit with super weak draws.
I also won a fair few 3 way all ins, I played shorter sessions and once i got to the $383 mark I would book the winnings.
So I had a few days of run good for the last few days of the month and managed to get even.
May has started much better...

100% bonus up to £1250
$5 Bonus released for every 350 WH points earned
Pokerfarm Sponsorship
Up to 50% value back with our sponsorship scheme.See Promotions page for details
$400 New Player freerolls
Recieve 4 tournament tokens for thier weekly $1000 new depositor freerolls.
Exclusive Promo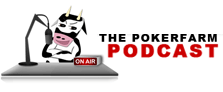 Catch up with the latest Pokerfarm Podcast.
Live From Cannes. Dinner With The Develfish