Some May Run Good.........
May 31, 2011
Finally some run good, I decided I was going to play shorter sessions in May, I played about 220 hours in April and broke even, probably one of the most stressful months ive had.
I didn't want that to happen again, so this month I played everyday until I was winning an amount I was happy with (anything above $200) or reached my loss limit and then I would stop for the day.
I managed to go 7 days without any loss, biggest winning day being $630 and the biggest loss being $400.
I was running good in 3-4 way all ins, which is always the aim, and hitting a lot of backdoor stuff. I played a few less tables and concentrated on taking more notes on players, after every session I went through hand histories to make additional notes on players and confirm the reads I already had. I took longer breaks when the sessions where going badly and most of the time managed to end up in profit for the day.
As for my actual playing style, I played exactly the same as I did last month, stats were basically identical but PLO is a beast and this month I am ++Ev

As of next month I will be playing half online half live.
All the best...

100% bonus up to £1250
$5 Bonus released for every 350 WH points earned
Pokerfarm Sponsorship
Up to 50% value back with our sponsorship scheme.See Promotions page for details
$400 New Player freerolls
Recieve 4 tournament tokens for thier weekly $1000 new depositor freerolls.
Exclusive Promo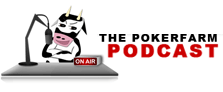 Catch up with the latest Pokerfarm Podcast.
Live From Cannes. Dinner With The Develfish