Computer says no!
March 22, 2011
Computer says no!
Hi all, I've had a bit of an extended break from online poker.
When I say 'extended break' what I actually mean is that I keep doing my pieces online and am pretty sick of it.
My flatmates were both concerned with my lack of concentration whilst playing online and told me so. I realised they were correct and made sure to be in the right frame of mind for playing good.
Its so easy to go on auto-pilot mode when playing online – and especially when you aren't running too good. Of course this is a really bad reaction (just one pip above monkey tilt IMO) and creates a spiral affect of "bad luck > bad play> more bad luck> even worse play> Fuck my life!"
So, having pondered my flatmates comments and accepted that I was not playing my best; I set about turning this around. I played a really good couple of sessions, long and focused. I felt I played quite well having gone through my hands and was particularly enthused with my bet sizing to induce, which seems to work particularly well at low stakes.
Fortunately I've been back on the live scene, running good and enjoying myself. My experience at dusk til dawn saw me return to London with confidence.
Since then I've played a wide variety of games and stakes in a variety of different card rooms. Last Saturday I went to the Grosvenor Victoria to see what games they had on offer – I kicked off in a £1/2 PLO game, followed by a running £2 ante £5 bring in round of PLO, PLO8 and Superstud, followed by a £2/5 PLO game, followed by a £5/10 NL game, followed by a £1/3 PLO game.
I approached each game with confidence and enjoyed the mix of games/stakes. Its got to the point where I am super comfortable in anything up to and including £2/5 and this shows in my game.
I mention the Stars $5million in my last post. The event attracted over 50,000 runners and had a prize pool of over $10 million. Not bad for a $215 buy in. I managed to get in the money and outlast a huge majority of the field to finish 1460 out of 59128 runners for a prize of £1183.
(Which makes a nice story considering I mentioned this event in my last post)
My now two-year old PC has decided it wants to randomly turn off on me, which pretty much stops me playing online (Thank ye poker gods!!!). I tried all the normal tricks to get it running fine again – reformatting hard drive, reinstalling windows, opening the back up and poking around, kicking the bloody thing – but it seems to be on its last legs. Oh well, saves me money I would have lost online!
Take it easy guys; hope to have a bit more news next time round.
Tony

100% bonus up to £1250
$5 Bonus released for every 350 WH points earned
Pokerfarm Sponsorship
Up to 50% value back with our sponsorship scheme.See Promotions page for details
$400 New Player freerolls
Recieve 4 tournament tokens for thier weekly $1000 new depositor freerolls.
Exclusive Promo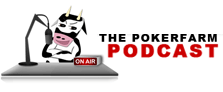 Catch up with the latest Pokerfarm Podcast.
Live From Cannes. Dinner With The Develfish