Finally some good news
Jan. 23, 2011
It feels like its turning round now. Having continued my nightmare into January I got on a new site for the farm.
Maybe its psychological; maybe its the speed of action, maybe the games are suited better. At the moment I really don't have any idea why; but I'm winning!
I've decided this post will work better if I actually delve a bit more into my own mindset over the next few days.
Sunday:
Having not slept at all on Saturday night, lost a few hundred playing live and then actually booked a small win on another site I realised it was 11am and I could get going for Pokerfarm. I still felt sharp as I hadn't actually gone that long without sleep (16hours or so!). So I load up the client and proceed to play.
5 hours later (with breaks) I'm up $1100; have played really well and ran even better and it's sleep time. Made lots of notes – essential when you have no hand history on anyone..
Feel very good and stupidly tired when I finally get to sleep at 10pm.
Monday:
Wake up at 11am feeling positive. Decide to set myself the aim of making just 200 bucks; which is artificially small to make sure I don't get cocky and remember that +1k days are not the 'norm' at these stakes.
Am also acutely aware of something I mentioned to a friend a few weeks back  "remember the bad times". That is to say; keep focused, keep playing good – and recognising when you aren't, keep analysing, keep learning.
Its easy to become complacent (even after one good session). I allowed myself exactly 10 seconds of  the "you are a poker god" feeling on Sunday night.
Session wise: $700 up. Ship it.
Tuesday:
Wake up late but feel good. Have some friends coming over so need to get the brunt of my play done early.

In a frustrating session of just over 1k hands I dropped  $530 . Felt like I possibly didn't play all that well but part of the session was being sweated by a good PLO player and we agreed on almost all of my lines.
Having now gone through my hands I played fine. There were a few cooler spots; AK23 with nut flush draw on an AT2 board versus AT with lower FD in a 4 bet pot.  (Although I can't claim getting it in with 555 v TTT in an unraised pot was particularly good PLO but c'est la vie!

I finished strongly as I was almost $1k down; and actually am, again, proud of my play. Roll on Wednesday.
Wednesday
Woke up feeling slightly apprehensive due to yesterday and not getting much sleep. Either way; I let myself wake up properly and get going.
After 1k hands I'm mentally exhausted. And the thing is, not much happened. It wasn't a swingy day – at the bottom I was down $300; at the top I was up $200 and ended the day up about $50.
I'm upsetw ith one hand where I failed to release my top and bottom pair, and nut flush draw, on the turn against an 'obvious' set. (Note to self: when they check raise you OOP, in a single raised pot, on a flushing board, with 100 BB's, Blind versus Blind – They gots it!)
Hands look good in HEM. Happy with my non-showdown winnings especially. Will do a blog post on the 'red line' sometime soon.
 Glad to get back to winning ways. Albeit small ones.
 Thursday
 Impromptu break day! I didn't get much sleep on Wednesday night and felt my time would be better spent making burgers and chips, watching some House and getting a well deserved 12 hour sleep in.
 I'm happy with my volume of play in the past 10 days or so... I've played a fair amount live over that time a well as a lot online. Thereby justifying a break :)
 Friday
This one comes in two parts:
1)      I felt fresh and ready to go today. Cue Muse at Glastonbury 2010, a cup of strong coffee and 6 tables.
80 minutes later I'm down $200 but have played fine. Just rocking out to the last few songs of the set and time to take a break. I'm "feeling good" about my play today. Only one cooler spot, no real spew and lots of getting outdrawn.
2)      Got back from booking a nice live win and got back on the tables about 1am. An hour later I got almost all my money back for the day. Was a fun 3-betty swingy session finishing off with quad 5s getting paid by AAA on A55 board. $50 down total for the day.
The last six days have been good, I've logged 4500 hands, made $1200 and am delighted that finally its turned round. I've still got a way to go but I'm feeling a helluva lot better about things. My play has been fine, although I have ran ahead of expectation; in non-poker speak 'I got lucky'.
hats how these things go.. I spent 2 months getting cruelly outdrawn, tearing my hair out and generally getting stressed. Part of the package IMO.
Good Luck,
Tony
What Others Are Saying
1 Comment about Finally some good news

100% bonus up to £1250
$5 Bonus released for every 350 WH points earned
Pokerfarm Sponsorship
Up to 50% value back with our sponsorship scheme.See Promotions page for details
$400 New Player freerolls
Recieve 4 tournament tokens for thier weekly $1000 new depositor freerolls.
Exclusive Promo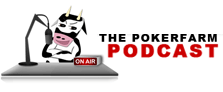 Catch up with the latest Pokerfarm Podcast.
Live From Cannes. Dinner With The Develfish